Black Lives Matter protest fines: PSNI reputation 'damaged'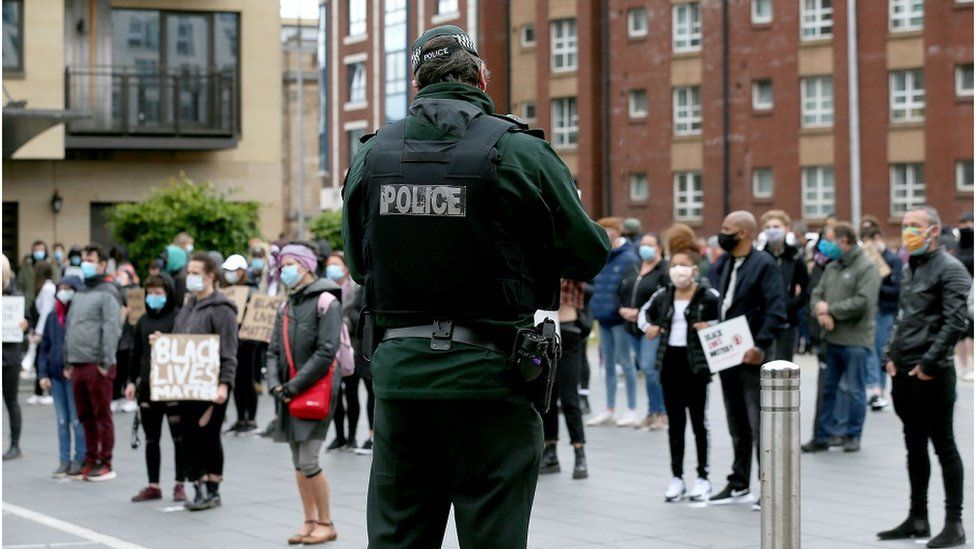 The Police Service of Northern Ireland's reputation has been "severely damaged" over Black Lives Matter (BLM) protest fines, an organiser has said.
The fines relate to protests on 6 June 2020 in Belfast and Londonderry.
Lilian Seenoi-Barr, one of the protest organisers, said it would take a "lot of time to repair relationships with the PSNI" adding that "people feel let down".
"From the start we knew we were right and it has made people lose confidence in the PSNI even further," Ms Seenoi-Barr told BBC Radio Foyle.
On Tuesday, Deputy Chief Constable Mark Hamilton said the service "erred in our use of penalty notices" and "are taking this action to correct that error".
It is understood the request to refund money paid out in fines relates to 72 "COV1" (£60) penalty notices issued at Custom House Square in Belfast and Guildhall Square in Derry last June.
They were referred to the PPS for potential breaches of Covid-19 regulations.
The PPS had said there was "no reasonable prospect of conviction for any offence".
Last year, the Police Ombudsman found justification in claims the handling of the Black Lives Matter protests by the PSNI was unfair and discriminatory.
Ms Seenoi-Barr said that protestors felt "relieved and vindicated" but were frustrated that the process has taken 14 months.
"We knew from the start that we had the right to peacefully and safely protest," Ms Seenoi-Barr said.
"This was backed by the two reports from the Policing Board and the Police Ombudsman; it was inevitable that the PSNI would cancel those fines.
"There was a lot of public pressure after the protests because it became very clear that the Black Lives Matter protests were the only protests that were criminalised in Northern Ireland."
Ms Seenoi-Barr has called for greater BAME (Black and Minority Ethnic) representation in the PSNI.
"One thing that gives me hope is the fact that the PSNI have started engaging meaningfully, they have acknowledged that things went wrong and are trying to make them right," Ms Seenoi-Barr said.
'We've not always got the balance right'
On Tuesday, DCC Hamilton said the police's objective had always been to slow the spread of the virus against a backdrop of "an unprecedented health crisis and rapidly changing legislation".
"Balancing this against our obligation to safeguard other important rights - such as the right to peacefully protest - has not been easy or comfortable," he said.
"We have previously accepted that as a service, we have not always got that balance right."
Mr Hamilton said the PSNI was "working to implement the lessons learned from this period and are determined to improve relationships and build confidence and trust in policing among all communities in Northern Ireland".