NI house prices 9% higher than same period last year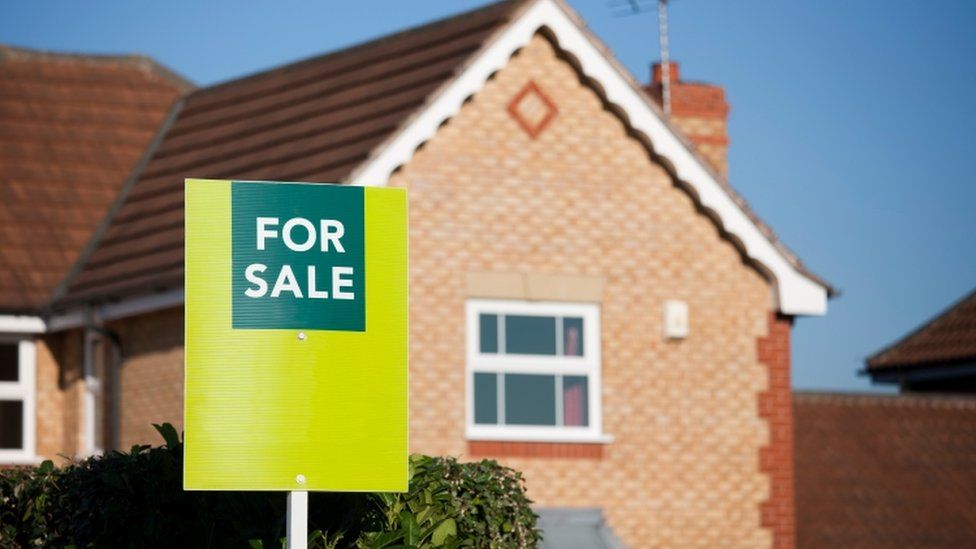 House prices in Northern Ireland from March to June were 9% higher than the same time last year, according to official figures.
It is the biggest annual rise since 2007 and the biggest quarterly increase since 2016.
The housing market was effectively paused between March and June 2020 because of lockdown, which caused a build up of demand.
The average price for a house in Northern Ireland is £153,449.
It ranges from £134,091 in the Armagh City, Banbridge and Craigavon Borough Council area to £180,067 in Lisburn and Castlereagh City Council.
The Causeway Coast and Glens Borough Council area was the area which had the biggest annual rise in prices, up almost 17%.
Between March and June this year, 7,187 residential properties were sold, according to the latest from Northern Ireland Statistics and Research Agency.
Prof Paddy Gray, a housing expert at Ulster University, said the rise of prices was good news for some but could force others into sub-standard housing.
He said the price rises would have knock-on effects for first-time buyers and renters.
"House price rises create confidence for the people who already own," he said.
"You think the economy is improving but there is an element of people who just can't afford to get on the property ladder and those people need to be looked after and looked after with accommodation they can afford.
"We still have so many thousands on the waiting list for social housing, the rents are going up as well in the private rental sector and people may need to move into cheaper, sub-standard housing as a result."
Northern Ireland's house prices may be the lowest in the UK but that does not necessarily make them affordable for the people who live there, he said.
Prof Gray said people moving home from other UK cities with higher wages could price out local buyers.
"Not only would it restrict what was available locally but as people will move into an area, it will push up the prices so that'll push people out further," he said.
Elaine Crory has been planning to upsize since she brought her first baby home almost a decade ago.
The 41-year-old has been renting for more than 20 years. She and her husband had saved almost 10% for their deposit for a house in west Belfast, but that is no longer enough.
Now that move has been pushed back years - tying her to a mortgage well into her 60s.
Speaking to BBC News NI's Evening Extra programme, she said: "The window is closing, the pressure is really on."
Their current rental had no space for their two children to play outside, she said.
"If they play outside they're playing on the pavement. You want space for them to be able to go outside.
"That's something we said many years ago: 'We'll make sure we have a garden'.
"The eldest one is nine-and-a-half and her childhood is rapidly moving towards teenage years and she's never had a garden. That's what we're saving for."
Judith Gilchrist, a director with an estate agency, said the last quarter had been "manic".
"A semi-detached house in Bangor that went on the market this week got an offer £10,000 above the asking price overnight - and 16 viewers were already lined up, she said.
"We've had a frantic past three months - every time you put a house on there could be 20 viewers immediately and, all of a sudden, out of those 20 there's about five bidders.
"I feel really sorry for purchasers at the moment trying to find a house."
She said the pandemic had given some buyers more disposable income, driving up demand and prices.
"People have been saving up, not going on holiday and have been bored of their own four walls so upgrading is probably the best option.
She added: "People who normally have roots in Northern Ireland are coming back to be with their family."
Tax holiday 'went against' first-time buyers
The government's stamp duty holiday was partly responsible for the rise in prices, PropertyPal's chief economist said.
Between June 2020 and July 2021, buyers in England and Northern Ireland did not have to pay any stamp duty on the first £500,000 of their purchase price.
Those changes are now being phased out, with stamp duty returning to normal from 1 October.
Jordan Buchanan said the scheme was more likely to have helped those with higher incomes.
"One of the things that surprised me about the stamp duty holiday was it wasn't targeted and it was still available for those who were buying second homes," he said.
"So actually counter to one of the government's other policy objectives of boosting home ownership, the stamp duty policy stamp duty holiday has actually helped inflate property prices, which has gone against first-time buyers where they're struggling to keep pace with the prices that houses are moving at."
He added there were "tentative signs" the market may have peaked.
"We may see some softening of activity for the remainder of this year and into early 2022. As it stands, the rate of house price growth is making it increasingly difficult for first time buyers to enter the market," he said.