Covid-19: Deaths and hospital admissions 'yet to peak'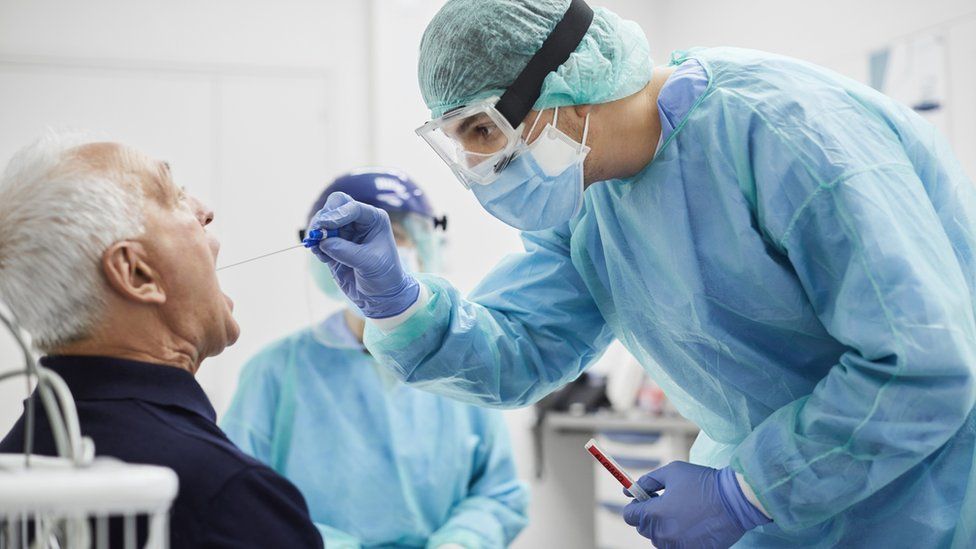 The number of people dying with Covid-19 is likely not to hit a peak for "a couple of weeks", Northern Ireland's chief scientific officer has said.
Prof Ian Young told BBC News NI he wanted to see more people get vaccinated in Northern Ireland.
It brought the total number of deaths in Northern Ireland since the pandemic began to 2,269.
Of those 11 deaths, 10 were within the latest 24-hour reporting period.
Prof Young said: "What we're seeing today is extremely sad but it's an inevitable consequence, despite the success of vaccination, of the increasing number of cases.
"Today has been the worst day that we've seen for quite a long time in terms of numbers of deaths but there have been more deaths on average over the past couple of weeks, and unfortunately those numbers may rise a little bit further."
He said the number of cases was still rising, adding: "I hope that we're near a peak, but it's likely to be another couple of weeks before hospital numbers and deaths reach a peak."
Another 1,345 cases were recorded on Wednesday.
Vaccine numbers 'lagging'
Prof Young said people in Northern Ireland had been less willing to get vaccinated than elsewhere in the UK and the Republic of Ireland.
"We need to push those numbers forward to get to above 90%," he said.
Just over 77% are fully vaccinated.
That compares to 89.6% in the whole of the UK.
He said: "The ongoing loss of life to this virus is heartbreaking and my thoughts are very much with the families and friends of those who have died.
"I would again urge people who have not yet got their vaccine do so without delay.
"The battle against Covid is far from over - today's figures underline that."
Professor Ronan O'Hare, the assistant medical director of the Western Health Trust, said intensive care unit (ICU) capacity across Northern Ireland remained under extreme pressure.
The BBC is not responsible for the content of external sites. Facebook content may contain adverts.
"This is mainly due to the wave of Covid we're now experiencing," he said.
"Currently in intensive care there are 46 patients with Covid across the province, 70% of these patients are unvaccinated.
"I'd urge the public to get vaccinated as quickly as possible."