Afghanistan: Donaldson concern for NI citizens in final evacuation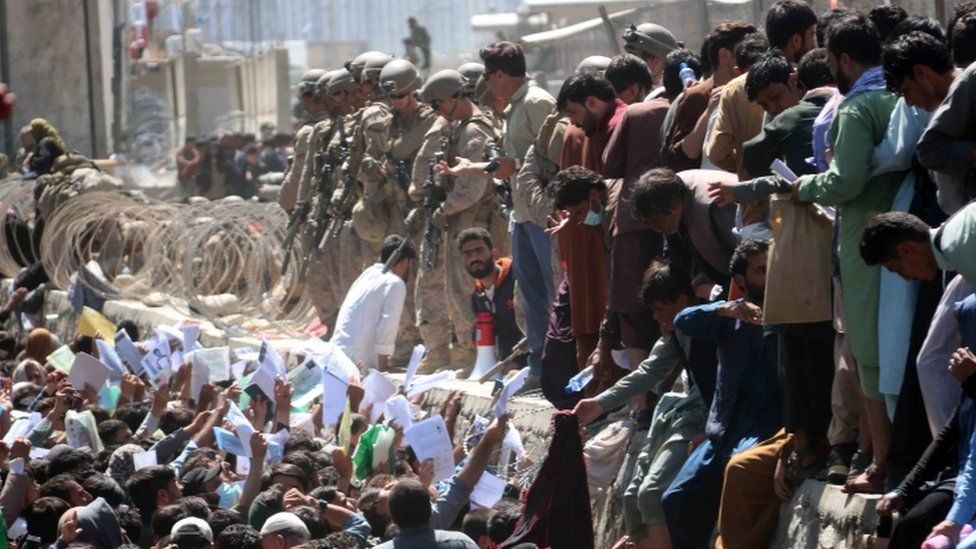 A number of Northern Ireland citizens are waiting to be evacuated from Afghanistan, the Democratic Unionist Party (DUP) leader has said.
They include people working for non-governmental organisations and charities, said Sir Jeffrey Donaldson.
Some people from Northern Ireland may not make it out of the country, said Ulster Unionist Party leader Doug Beattie.
"I hope that a way can be found to help those people to be evacuated," Sir Jeffrey told the BBC.
About 1,000 people who remained inside the airfield will be evacuated, he said.
The US, which is running the airport, is withdrawing its troops by 31 August.
The Ministry of Defence has closed processing facilities at the Baron Hotel, outside the airport in Kabul.
At least 150 people were also wounded in the attack, which the so-called Islamic State group say it was behind.
Speaking to BBC Radio Ulster's Good Morning Ulster programme, Sir Jeffrey said he would seek clarity from the foreign office and home office on Friday in relation to UK citizens still in the country.
"Whilst I understand the need to protect our armed forces and civilian staff working at Kabul airport, I am concerned that perhaps there remain British citizens who haven't yet been evacuated out of Kabul," he said.
"I am seeking clarity on that from the Foreign Office and the Home Office today. That includes some Northern Ireland citizens whose cases I have been dealing with.
"I'm hoping that by now they're in the airport compound and will be transported home, but those are matters that we need to clarify."
He said he did not know what attitude the Taliban would take to charity and aid workers.
"Our thoughts are with the families here at home who are so anxious and stressed about what they're seeing on their TV screens and deeply worried about their loved ones," he added.
He said he believed that aid workers who worked for an Irish aid agency, some of whom come from Northern Ireland, had not yet been evacuated from Afghanistan.
Ulster Unionist Party leader Doug Beattie, a former Army captain who served in Afghanistan, said people he met when he served with the Army in Afghanistan had contacted him in desperation to flee the country.
He told BBC Radio Foyle he was "desperately trying to help them get processed and get out".
"In many cases, I will have failed and they will not manage to get out," he said.
"We still have citizens over there from the UK, including people from Northern Ireland, who are likely not to get out as well.
"There is a tragic human cost to all of this."
He said he had "received a flurry of messages" from a person he had served with in Kajaki in 2008, "desperately pleading to get out".
"And I just can't help them, they are stuck in Kabul.
"I can't direct them to the Baron Hotel because it is closing. I can't direct them to the airport, because that's not safe."
Meanwhile, an Afghan man living in Londonderry said he had not heard from his mother and three sisters trapped in Kabul for the past seven days.
"I have the type of feeling that when you are not able to do anything for your loved ones and your country and for the people, it is a very bad feeling," he said.
"When you are not capable of doing anything it is absolutely heart-breaking."