Lord Frost warns of 'cold mistrust' over NI Protocol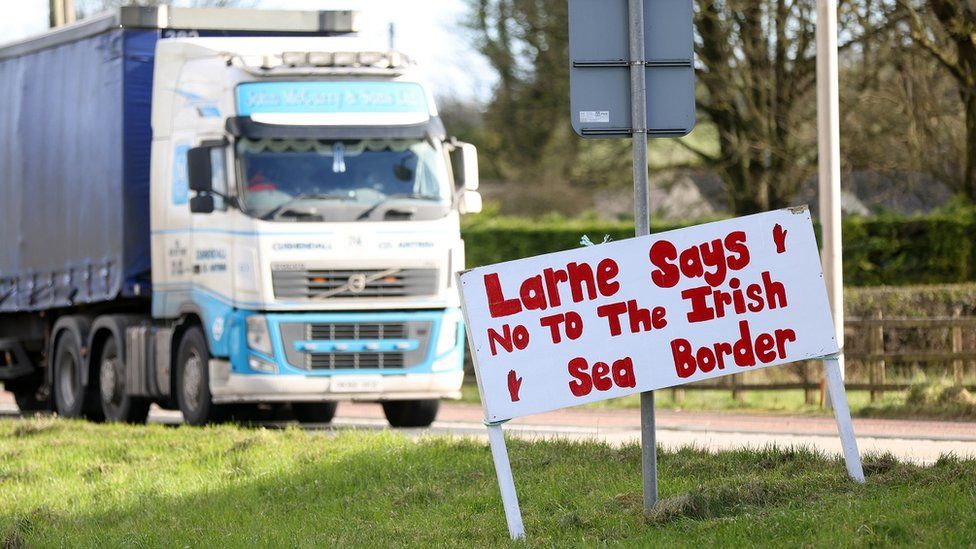 The UK does not want to "sweep away" the Northern Ireland Protocol, but the deal risks creating "cold mistrust" with the European Union, the UK's Brexit minister has said.
Lord Frost repeated calls for Brussels to accept a "substantial and significant change" to the deal.
The protocol keeps Northern Ireland in the EU's single market for goods.
It prevents a hard border with Ireland but some products need to be checked as they arrive from Great Britain.
Not all the checks have been implemented due to what are known as grace periods.
Unionist parties have expressed opposition to the protocol, arguing it has damaged east-west trade and harms the union.
On Tuesday, DUP Economy Minister Gordon Lyons called for further delays to Irish Sea border checks.
Speaking at the British-Irish Association conference in Oxford, Lord Frost said: "The stakes are high. The arguments can be bitter.
"And I worry this process is capable of generating a sort of cold mistrust between us and the EU which could spread across the relationship.
"It's holding back the potential for a new era of co-operation between like-minded states in a world which needs us to work together effectively."
The Conservative peer reiterated the UK's position that the "threshold" for triggering Article 16 to effectively tear up parts of protocol has been met.
But he added: "Some would like us to sweep all the existing arrangements away. That is not our position.
"It is obvious there will always need to be a dedicated UK-EU treaty relationship covering Northern Ireland. It is a question of finding the right balance."
Grace periods mean that the introduction of all checks and controls on businesses have not yet been fully implemented.
It is to allow industry more time to adapt and prepare.
Some significant grace periods are due to expire on 1 October, and at that point some Great Britain-made meat products would be prohibited in Northern Ireland - what has become known as "the sausage ban".
Northern Ireland gets most of its medicines from distributors in Great Britain, but is still covered by EU medicines rules.
The health department has been notified 910 medicines are due to be withdrawn, with a further 2,400 are at risk.
It is the deal agreed by the UK and EU to prevent a hard border between Northern Ireland and the Republic of Ireland after Brexit.
It does this by keeping Northern Ireland in the EU's single market for goods.
This means goods don't have to checked as they cross the Irish border, instead some checks and controls are required on goods entering Northern Ireland from the rest of the UK.
This has caused difficulties for some businesses and is opposed by unionist parties in Northern Ireland, which say it undermines Northern Ireland's constitutional position as part of the UK.
In July the UK published a "command paper" proposing radical changes to the protocol but the EU says it will not renegotiate.
The headline on this article was amended on 6 September 2021.