Covid-19: Some schools 'not following pupils close contact advice'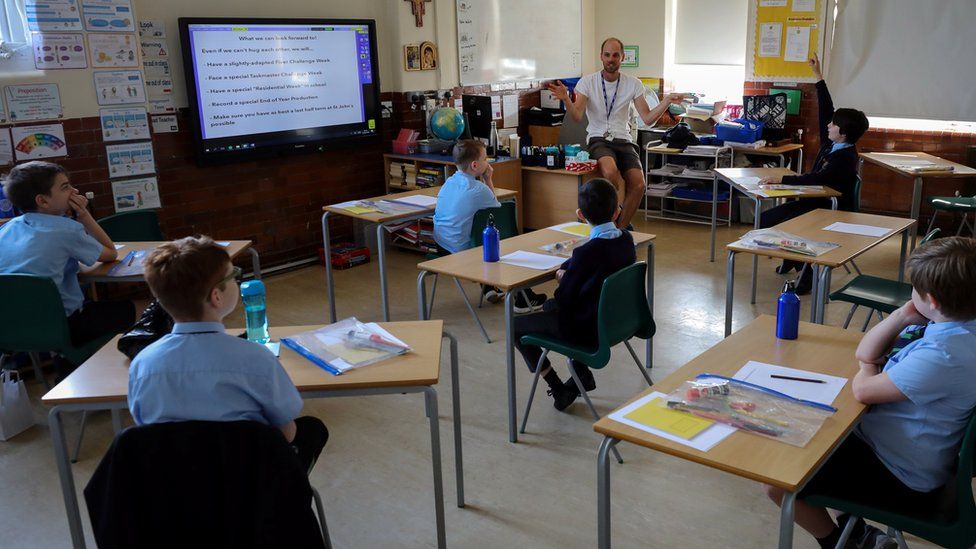 Some schools have decided not to follow Covid-19 self-isolation guidance over concerns it could lead to increased transmission, a leading teachers' representative body has said.
The National Association of Head Teachers (NAHT) said the issue is over close contact advice for pupils.
Some principals have asked parents to consider longer isolation periods.
The Public Health Agency (PHA) guidance is based on Department of Health (DoH) policy guidance.
If a pupil is flagged as a close contact, and has not tested positive for the virus in the previous 90 days, the PHA recommends they self-isolate until they have taken a PCR test.
If the test is negative, they can return to school and do not have to self-isolate for 10 days, but are advised to take another test on day eight of their 10-day exposure period.
However, the NAHT has said some principals would like pupils to have longer self-isolation periods.
"The reason for that is some of the guidance coming from the PHA seemed to allow the possibility of increased transmission when at the same time our school leaders are doing everything they can to prevent transmission within our schools," said Graham Gault, the president of the NAHT in Northern Ireland.
"Our principals have understandably made some decisions in order to err on the side of safety."
She announced that £5.5m of extra funding was being made available to help schools and that a PHA helpline would open for longer hours from Monday.
In a statement on Sunday, she said she was aware of some of the issues and the problems they were causing schools.
She said her department would continue "to monitor funding requirements as the pandemic progresses in order to secure adequate funding to keep our schools open and protect our children and young people".
'I don't think they thought this through'
Some principals have told BBC News NI that they would not be following the PHA close-contact guidance at their school.
Dianne Dawson, who heads up Braniel Primary in east Belfast, informed parents in a video message last week the school would not be following PHA advice.
She said it would require pupils who are close contacts to self-isolate for 10 days.
"I believe this is the best way to keep most of our children in school most of the time," she said.
"The other way they will be in and out, and in and out, for up to 18 days if they test positive any time up until day 8 then another 10 days of self-isolation and a negative test"
"I don't personally feel they have thought this through for schools."
St Aloysius Primary School in Lisburn has also written to parents to inform them it would be deviating from the PHA guidance.
The letter said a child who is a close contact of a positive case in a household must self-isolate for 10 days.
It added the "vast majority" of Lisburn primary schools were taking this approach.
Around 250 pupils at Larne High School - a third of the school population - have been identified as close contacts of positive cases and now require a negative PCR test before they can return.
The school's principal, Stephen Reid, said the lack of a test centre in the town is slowing pupils return to the classroom.
"That's putting additional pressure onto families," he said.
"What that will mean is either families have to travel a significant distance, yesterday [Saturday] for example the only testing sites available were Belfast, Antrim or Ballymena for people in the Larne area.
"It's very difficult at this stage to see how this settles and how we manage it going forward," he said.
"The pupils who will return negative, and return to school in the next few days, within a fortnight could again be a close contact and have to go through the process again."