Royal Victoria Hospital: Mum's anger as baby's surgery cancelled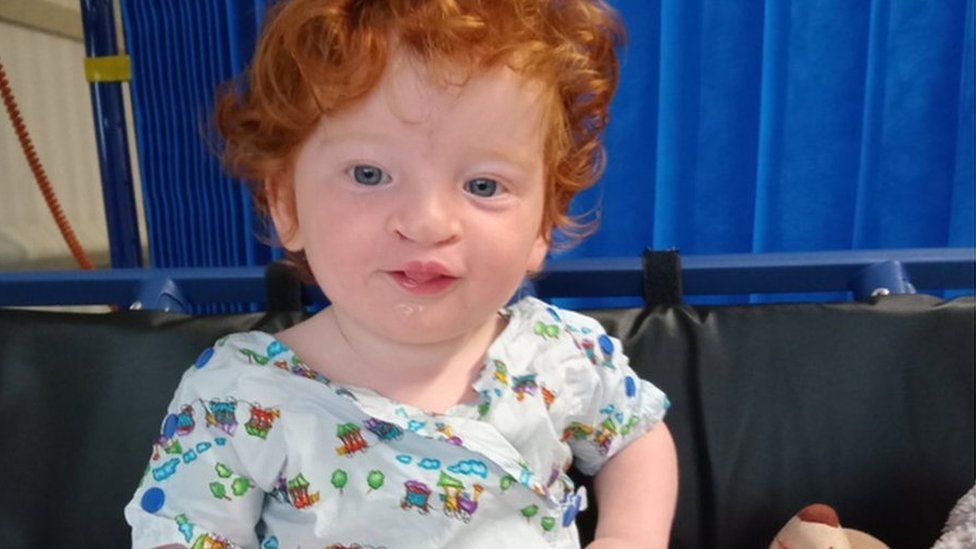 A woman has spoken of her anger and frustration after her 13-month-old baby's cleft palate surgery was cancelled at the last minute.
Rebecca was with her son in the Royal Belfast Hospital for Sick Children when she was told there were no post-operative paediatric beds available.
She said her baby needed surgery to be able to eat and speak properly, but was now at the bottom of a waiting list.
The Belfast Trust apologised to families affected by cancellations.
"The children's hospital continues to face significant pressure due to the increased demand for emergency admissions and the increase in severe respiratory type infections," it said in a statement.
"We make every effort to avoid having to cancel procedures and it is never a decision we take lightly."
Rebecca told BBC News NI that her baby, Lars, was due to have a third operation for his condition on Friday.
The operation was part of a series of procedures that was due to have been completed by the time Lars was 13 months old at the latest.
"He had been fasting since three in the morning," she said. "We had been on the ward since 7.45am and only at 8.30am did managers decide to have a meeting about the fact there were no post-op beds left.
"I was basically told that it [the operation] wasn't happening. We're just put back on the bottom of a waiting list again which could be months away.
"I'm so frustrated, so angry, because you're trying to do your best for Lars. It's been an absolute fight to get this routine surgery done.
"It's hard enough having the cleft palate and having to adjust to that and help him develop and grow, but just to be knocked back... you just feel like you're screaming out for help and it's not there."
Rebecca said the surgery was time sensitive because a delay can affect a child's speech, as well as their ability to feed and put on weight.
Lars' parents have had to "basically squeeze" milk into their son's mouth and he had to learn to eat without a top lip which meant he often choked when he was being weaned.
"It just completely exhausts him because he's having to find a completely new way to learn to eat," said his mother.
"It will also have great impact on his speech, because he won't be able to speak properly. He has no pallet. Your tongue's not hitting the roof of your mouth properly, so you're not making certain sounds and that sort of thing."
Rebecca said she knew of other babies that had been affected by surgical cancellations and wanted to highlight the situation with the health service.
She urged the trust and health minister to "make the call" with regard to freeing up beds in the Belfast hospital, and said she had been told there were about 60 beds available at both Daisy Hill Hospital and Antrim Area Hospital, but "no-one would take the decision" to move patients there.
"Everything's been delayed, which is having this huge impact on the kids, like Lars," she said.
"In the long run, it's going to cost the NHS a lot more because he's going to have to be referred to speech and language therapy, probably for a longer period of time.
"His recovery is going to have to be more intense. It's a long road ahead of him anyway, but it's just going to be that wee bit more now in his early years development."
BBC News NI understands the availability of a bed in another trust area does not mean availability for a patient in a Belfast Trust facility.
Rebecca said the staff at the Belfast hospital had been "fabulous" and that the surgeon, theatre and nursing staff were equally frustrated as they were "standing ready" to do the surgery.
In a statement, the Belfast Trust said it would "like to sincerely apologise to families impacted by surgery cancellations and we understand the anxiety this may cause, particularly when these decisions have to be made at short notice".
It added: "Covid-19 has fundamentally affected the work we do for the past 18 months and will continue to do so for some time.
"Every effort is being made to ensure a continuous high level of care can be delivered and whilst some difficult decisions have to be made, our priority will remain to deliver safe, effective and compassionate care."
On its website, the Health and Social Care Board said Covid-19 challenges were "causing significant disruption across all health and care services, including lengthy delays in our Emergency Departments (EDs) and cancellations of some planned appointments and treatment".
4,256 procedures went ahead as planned.
There were 229 cancellations (5%).
Of the 229 cancellations, there were 46 red flag suspected or confirmed cancer procedures cancelled. Trusts are actively working to offer new dates as soon as possible.
The Belfast Trust was unable to provide BBC News NI with details of the number of paediatric operations that have been cancelled or postponed in that area over the past week.