Covid: Children's education 'will benefit' from jab move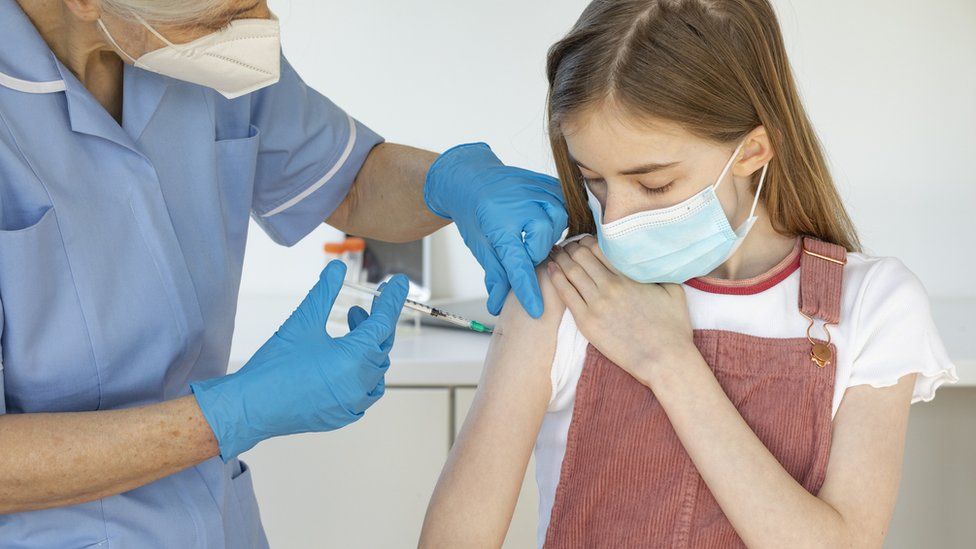 Offering jabs to children aged 12 to 15 will help avoid damage to their education and life chances, NI's chief medical officer has said.
Sir Michael McBride said: "Education is very important in public health terms."
The CMOs said reducing school disruption tipped the balance in favour of jabbing young people.
They said closures of schools was unlikely, but disruption to face-to-face education was likely given people who test positive have to isolate for 10 days.
It comes after the government's vaccine committee, the JCVI, said there was not enough benefit to warrant it on health grounds alone - but they said ministers could take into account other factors.
Sir Michael said: "The JCVI concluded there was benefit in vaccinating children.
"They did say that the narrow clinical benefit was small, not large enough to recommend universal vaccination.
"But we need to remember that education is very important in public health terms.
"Education is vitally important for our children realising their life opportunities, further employment opportunities."
He added that children from poorer backgrounds had suffered most during the pandemic and they would benefit the most from being in education.
Professor Chris Whitty, the chief medical officer for England, said the decision was not a "silver bullet", but it would make a difference.
"This is not a single thing that on its own will do so, but we think it is an important and potentially useful additional tool to help reduce the public health impacts that come with educational disruption."
It will now be up to ministers whether to accept the recommendation of the four CMOs.
If they agree, children will be offered the Pfizer jab.
Professor Chris Whitty said there are no plans to rush a decision to vaccinate children under 12 any time soon.
It is likely to be given in schools and parental consent will not be needed if the child is considered competent to give consent themselves.
SDLP leader Colum Eastwood welcomed the recommendation by the chief medical officers.
"Anything that protects our young people and helps stop the spread of the virus will have huge benefits for society," he said.
"It is hoped offering young people a vaccine dose will cut down on transmission of the virus in schools and the number of days our young people miss."
Alliance Party health spokesperson Paul Bradshaw called for a "speedy publicisation" of the plan to offer the jabs.
In a letter to ministers, the CMOs warned missing face-to-face school had a "massive impact" on children, both physically, emotional and in terms of their life chances.
The CMOs said it was not possible to quantify to what extent vaccination would help reduce this - the vaccines are less effective at prevention infection against the Delta variant of coronavirus than they were against previous variants.
But they said "on balance" the benefits in reducing disruption and the harm it caused provided "sufficient extra advantage" to warrant extending vaccination to healthy children in this age group.
They said poorer children had been hit hardest by the pandemic and could gain the most from vaccination.
Children with health conditions and those living with clinically vulnerable people have already been told they can get the vaccine.
This accounts for around one in 10 of the three million children in this age group.
The decision by the government's vaccine committee, the JCVI, came amid concerns about a small, but increased risk of heart inflammation after vaccination.
They said vaccination still offered a marginal benefit, but not sufficient enough to convince them a vaccination programme should be rolled out.
Related Internet Links
The BBC is not responsible for the content of external sites.