Taylor Swift: Pop star poses for selfies in Belfast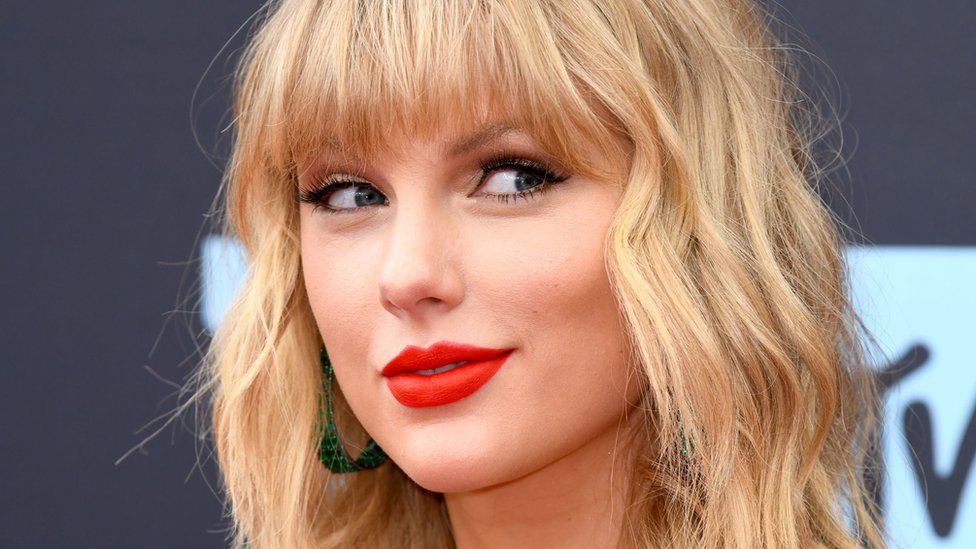 You might think that only in your 'Wildest Dreams' would you meet American pop star Taylor Swift on a night out in Belfast.
But that is exactly what happened for some lucky locals and hospitality staff last week.
Staff in a Belfast bar posted on social media that the star had happily posed for selfies when she visited the city.
Workers at the bar said she was in the city with her boyfriend, the actor Joe Alwyn.
He is wrapping up filming on the Hulu/BBC Three adaptation of Sally Rooney's novel Conversations with Friends.
Among the venues Swift visited was the Tipsy Bird bar in the city centre.
There she met singer Tiernán Heffron, 22, who plays at the bar every Friday night and is a huge fan of Swift.
"It was just like any other gig in Belfast until she turned up. No one there knew she would be there," he told BBC News NI.
"I was getting set up and someone came over to tell me Taylor Swift had just walked in.
"The back of my knees just dropped. I was excited because any other singer-songwriter would dream of this moment - so I just thought 'let's do it'.
"My heart was beating so fast. I just went for it and I had her up singing and dancing to 'Tell My Ma' - she was having a blast."
Swift even asked Mr Heffron for a selfie.
"She came up to me in the middle of it with a big smile and said: 'You're so good - how can I follow you?' Mr Heffron said.
"I told her my name and that I worked in a special needs school but I had been working hard on my music and she asked me for a selfie.
"She tipped me for playing, told me she enjoyed my music and said: 'You deserve this'."
When he went to say goodbye to her and thank her for the tip she told him she had heard him singing Ed Sheeran songs and that the two were best friends.
"She said: 'Right now are putting in your 10,000 hours - this is not your first gig - you're confident and you're going to do great'," Mr Heffron said.
In a Facebook post, the Tipsy Bird said: "The one and only Taylor Swift graced us with her presence last Friday night.
"We can confirm she is just as lovely as you would expect and was kind enough to take a picture with our team.
"Taylor, if you fancy being a Tipsy Bird another night in the future, you know where to find us".
She was also spotted at Shu restaurant on the Lisburn Road in south Belfast, where she posed for photos with the team.
"On Thursday evening we had the pleasure of serving Taylor Swift," Shu said.
"Taylor was so lovely and really is a beautiful person inside and out and she kindly agreed to photos with all of our team," the restaurant added in a post on social media.
On Thursday evening we had the pleasure of serving Taylor Swift! 🤭 Taylor was so lovely and really is a beautiful...

Posted by Shu on Monday, September 13, 2021