Covid-19: NI job market improves as furlough scheme nears end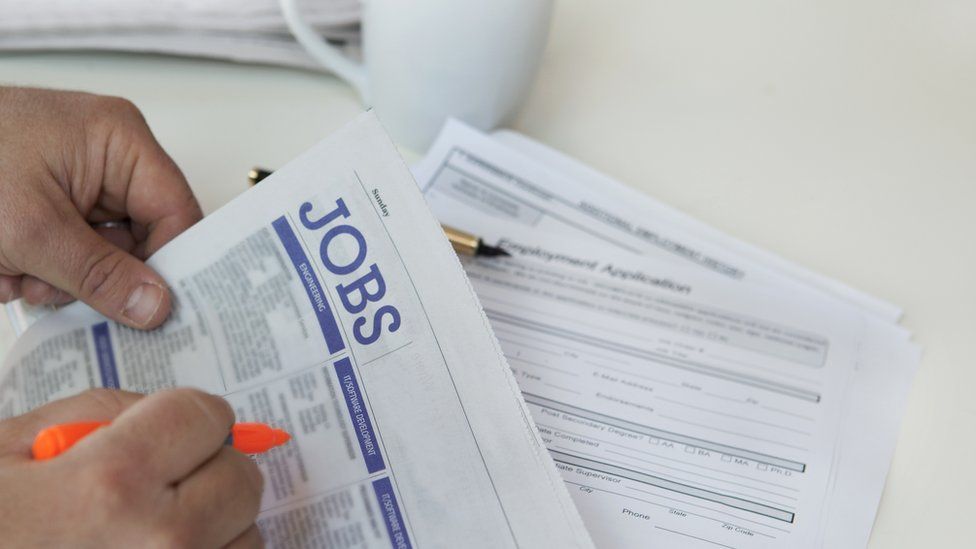 The Northern Ireland jobs market continued to recover in August, official figures suggest.
HMRC payroll data is the most timely and best single overall indicator of the labour market.
It showed an estimated 764,300 employees in August, up 0.5% on July and 1.5% above the pre-pandemic level in March 2020.
There are still thousands of people on furlough who count as employed, though that scheme ends soon.
Latest figures suggest there were 36,000 people on furlough at the end of July; around half were on flexible furlough meaning they were able to work some of the time.
The furlough scheme finishes at the end of September with concerns that could lead to a spike in job losses.
However there is little sign of large scale job losses so far.
The official data shows that 80 redundancies were proposed in August which was much lower than redundancy proposals in the previous three months (150, 490, and 850).
Other figures show the impact of people coming off furlough.
The Labour Force Survey shows the total number of hours worked in the most recent quarter (May-July 2021) increased by 14% over the year.
However that is still 6% below the the pre-pandemic levels measured in November-January 2020.
Another jobs market measurement, the Quarterly Employment Survey (QES) also points to an improving picture.
The QES surveys about 6,000 companies, covering all employers with 25 or more employees and all public sector employers.
It suggested that in the second quarter of this year the number of employee jobs was still lower than the same time last year but had increased slightly compared to the previous quarter.
Total employee jobs were estimated at 771,680 June 2021, an increase of 1,190 compared to March.
The increase was almost all in the services sector.