Covid-19 vaccines for over-12s and boosters for over 50s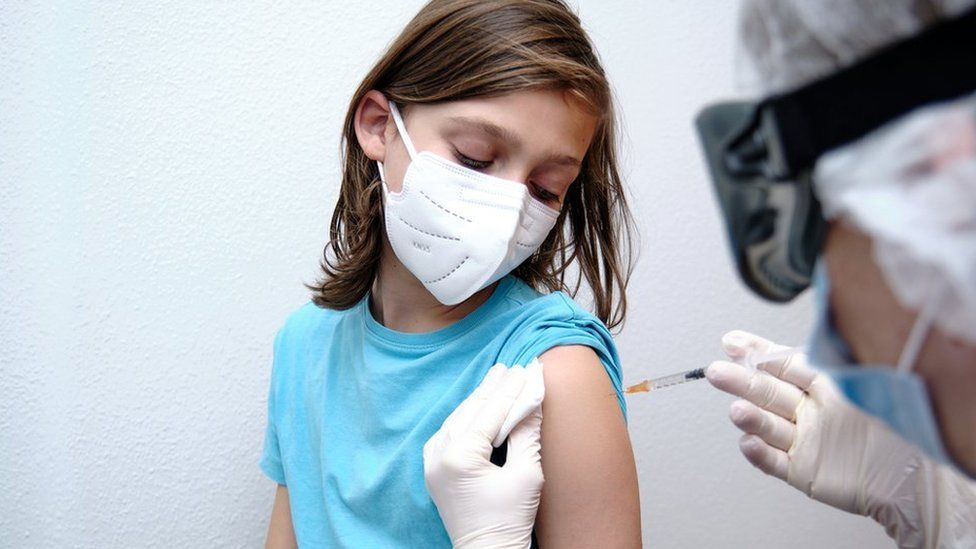 Young people aged 12 to 15 in Northern Ireland will be offered Covid vaccines, while all over-50s and healthcare staff will be offered booster jabs.
The changes to the vaccine programme were announced by Stormont's Department of Health, with the first boosters to be given within 10 to 15 days.
People aged 16 to 49 with underlying health issues can also have boosters.
Health Minister Robin Swann said it would protect young people and prolong protection for those most at risk.
An estimated 900,000 people will be eligible to receive a booster jab in Northern Ireland.
Care home residents will be first on the list when the booster roll-out begins in late September, according to the head of Northern Ireland's Covid-19 vaccination programme, Patricia Donnelly.
Ms Donnelly also said 12 to 15-year-olds were likely to be offered their vaccines in October.
There are about 98,000 young people aged from 12 to 15 in Northern Ireland and the decision to vaccine that cohort comes after the UK's four chief medical officers recommended the step.
These young people will be offered a single dose of the Pfizer/BioNTech Covid-19 vaccine with parental consent sought prior to vaccination.
Schools-based vaccination programme
Most school-aged children aged 12 to 15 are expected to primarily receive their Covid-19 vaccination in school.
A schools-based vaccination programme is the model used for vaccinations including for human papillomavirus (HPV) and the annual flu programme.
They will be supported by GPs where necessary.
Consent forms for vaccination will begin to be distributed via schools shortly, the department said.
There will be alternative provision for those who are home-schooled or in secure services.
Young people aged 12 to 15 who are part of an at-risk group will receive two doses, eight weeks apart, in line with advice from the Joint Committee on Vaccination and Immunisation (JCVI).
"This move will help protect young people from catching Covid-19 and is expected to prevent disruption in schools by reducing transmission," the health minister said.
Vaccinations for children aged between 12 and 15 in the Republic of Ireland began in August.
Boosters for priority groups
The Covid-19 booster vaccine announcement followed advice from the JCVI.
They advised booster jabs should be offered to people who are more at-risk from serious disease and were vaccinated as priority groups during the first phase of the vaccination programme early this year.
The Department of Health said this meant the booster jabs will be offered to:
people living in residential care homes for older adults
all adults aged 50 years or over
front-line health and social care workers
all those aged 16 to 49 years with underlying health conditions that put them at higher risk of severe Covid-19
adult household contacts of immunosuppressed individuals.
Mr Swann said care home residents and front-line health and social care workers would be first on the list.
"By early October we expect to see GPs starting to invite their oldest patients in to receive their booster dose as they pass the six-month mark from receiving their second dose," he said.
Regardless of which vaccine brand these patients received in the earlier stages of the programme, the JCVI has advised a "preference" for the Pfizer-BioNTech vaccine for the booster programme.
"This follows data from the Cov-Boost trial that indicates the Pfizer-BioNTech vaccine is well tolerated as a third dose and provides a strong booster response," the department said.
It added that a half dose of the Moderna vaccine may be offered as an alternative, and in cases where patients have certain allergies, an AstraZeneca vaccine may be considered for booster protection.
As many younger adults have only recently received their second vaccine jab, the benefits of boosters for under-50s who are at less risk from Covid-19 are to be considered at a later date.