Northern Ireland nurses 'showing signs of inability to keep going'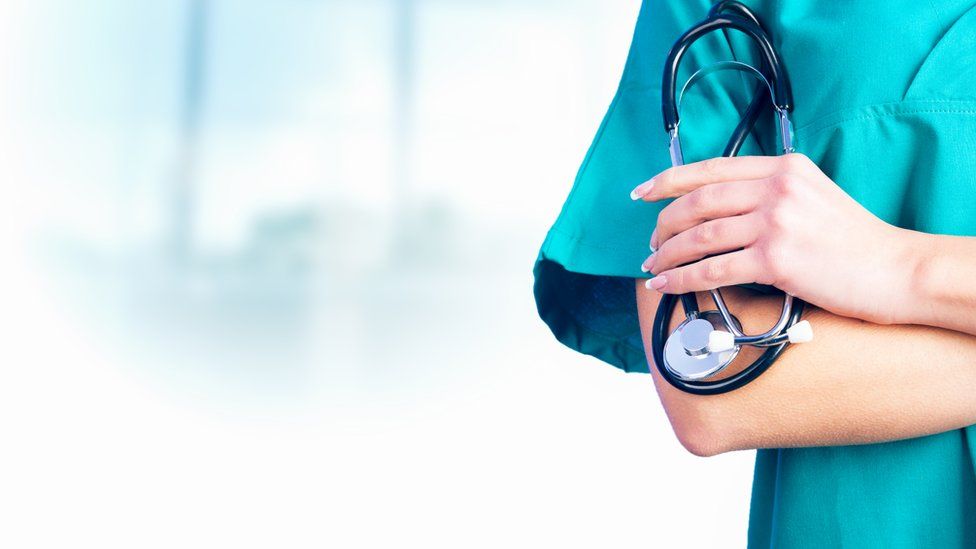 Many nurses in Northern Ireland are "showing signs of an inability to keep going", the head of the Royal College of Nursing (RCN) here has warned.
It comes as the Belfast and Western health trusts issued urgent appeals for nurse cover in recent days.
The Western Trust appealed to both registered and unregistered nurses to come to Altnagelvin Hospital on Monday and Tuesday due to "extreme pressures".
Rita Devlin said current staffing levels of nurses are "unsustainable".
"Over the weekend there was pressures on all of the trusts across Northern Ireland and some did ask for nurses to come in and help out," Ms Devlin, the RCN's acting director in Northern Ireland, told BBC Radio Foyle on Tuesday.
"Our members have been contacting me over the weekend and yesterday expressing their worries and concerns - it is unsustainable.
"These nurses are already exhausted and are now showing signs of an inability to keep going with the current pressures.
"We are really worried about this, this is an unsustainable place we find ourselves in," she added.
Ms Devlin has called for urgent action and said more needs to be done to help keep nurse staffing levels at a suitable level in the healthcare system.
"We need to look at a retention strategy straightaway for nursing because we are haemorrhaging nurses out of the system," she said.
"It is an unsustainable place we find ourselves in," Ms Devlin added.
Dr Simon O'Hagan, a Londonderry-based GP, said there has been a "complete relentlessness of pressure" in both primary and secondary care over the last 18 months.
Dr O'Hagan believes there are many nurses who have left the healthcare system "who probably would have stayed on for many more years but because of the pressures they are facing they've had enough".
He described the sector as facing a "perfect storm" with a number of reasons resulting in this "dreadful situation" they are now facing.
Staff Appeal | Altnagelvin Hospital

We appeal to any available Trust Nursing staff (registered/unregistered) available today and coming days to contact the Bank Office on (028) 7161 1123 which is operational between 9am to 5pm.

Thank you to our staff for your ongoing support. pic.twitter.com/NtuKIXp7MP

— Western Trust (@WesternHSCTrust) September 14, 2021
Dr O'Hagan said a big issue the trusts are facing is that many nurses are leaving to work for agencies "because they are getting a better rate of pay and work shifts that suit them".
He also believes a high number of absences is due to staff testing positive for Covid-19 or being in close contact with someone with the virus.
Another factor, he said, is that many health care workers' children have been sent home from school due to positive cases in the classroom and are then unable to work due to a lack of childcare cover.
"There are so many things going on here, I think all we can do for staff is to make the conditions as good as we possibly can and support them at this time," Dr O'Hagan said.
"Many staff feel there is no light at the end of the tunnel," he added.
The South Eastern Trust said that although no social media appeal was made for staff, they did face "pressures over the weekend".
The Western Trust issued a social media appeal on Monday and again on Tuesday saying that "urgent nursing cover was required".
On Saturday, the Northern Trust warned on social media that the emergency department at Antrim Area Hospital was under extreme pressure.
'Measures to address nursing shortages'
In a statement, the Department of Health said it "has in place a range of measures to address nursing shortages" and has published "a range of initiatives to enhance psychological well-being of staff".
They said a key priority for the department was "increased investment in pre-registration training".
The DoH stated the Northern Ireland Executive's commitment of an additional 900 pre-registration training places and £60m over five years to address safe staffing within the Northern Ireland nursing workforce "has commenced".
In recognition of continuing Covid pressures, the department also said it is "committed to addressing more immediate recruitment and retention".