Tax rise should be spent on social care in NI, says Age NI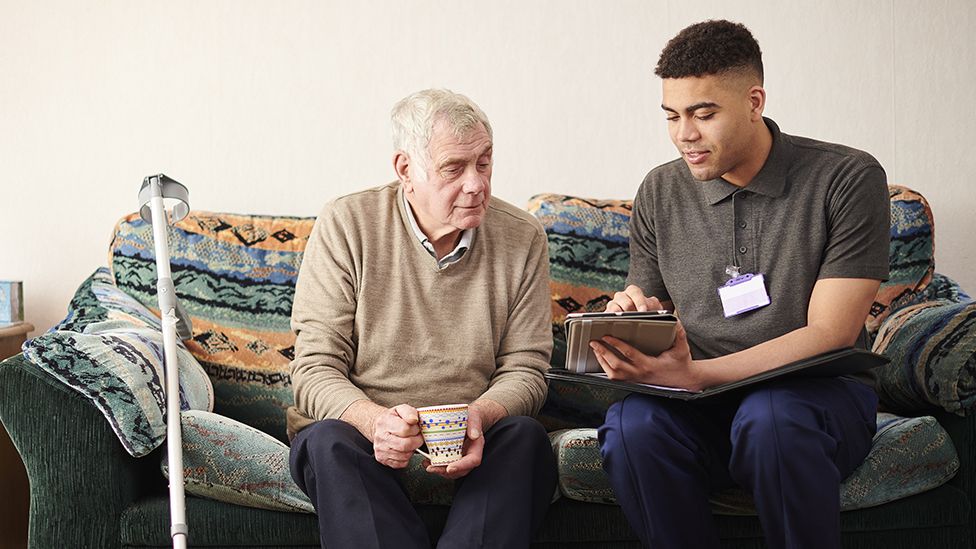 The money is expected in 2024/25.
The Westminster government has said that the majority of the money (£12bn annually) will go towards easing the NHS backlog in England before more of it is moved into social care.
Age NI said social care in NI has been "sitting in the shadow of health too long and must be treated equally".
Health Minister Robin Swann said he would launch a public consultation on reforming social care in Northern Ireland later in the year.
He added that options to be addressed in the consultation would include introducing a cap on care costs incurred by individuals.
For many people in Northern Ireland, like Sheila Bailie, an investment in social care would be welcomed.
Mrs Bailie has been caring for her 59-year-old husband Martin since he was diagnosed with frontotemporal dementia - a neurocognitive disorder which encompasses several types of dementia.
According to Mrs Bailie, her husband's complete functioning has "broken down" so he is unable to do the most basic things such as feeding, washing and toileting.
But she has not been able to secure a social care package that meets his needs.
"I pull my hair out everyday and it's not the people, it's the system," she told BBC News NI.
"It is outsourced for small sorts of visits of about 15 minutes a day, maybe four times a day. That is absolutely useless to us because I need to have a life, go to work and Martin needs appropriate care and 15 minutes does not meet our needs."
Mrs Bailie called for the system to be overhauled and that care is based on the "person's actual needs".
Age NI chief executive Linda Robinson told BBC News NI that "no one actually knows the true cost of social care as it has never been properly and independently costed".
"Hospitals are always prioritised when it comes to funding but that needs to change - social care has suffered for too long," she said.
"People look at hospitals especially over the past 19 months, where the emphasis has been on the hospitals, but in order for those hospitals to work we need the community also to have its place in that system of supporting health and social care."
How social care should be funded in the future is a debate that is gathering pace across the UK.
Each of the devolved nations tackles it differently.
Sophie O'Neill, whose grandfather is in a local care home, has described navigating the social care system as "overly complicated, expensive and impersonal".
Her grandfather, Stanley O'Neill, is 79 and has been diagnosed with Alzheimer's.
"My grandfather spent 200 days in hospital while a suitable care home was found - during that time he didn't have to pay for his care but once he went into the nursing home the bill started from day one," said Ms O'Neill.
She told BBC News NI that the system is impersonal and there is little joined-up thinking between the various departments.
"I found the first thing is the finances and then the personal care.
"It should be about the person first because at the end of the day it has to be about the best interests of the individual, it is not all about the system."
Who pays for care homes in Northern Ireland?
Northern Ireland will receive an extra £400m to spend by 2024/25.
The tax will begin as a 1.25% point rise in National Insurance from April 2022, becoming a separate tax in 2023.
But how does social care work in Northern Ireland, how is it funded and how does it compare to the rest of the UK?
Society is ageing. In Northern Ireland, there are more than 350,000 older people with more over the age of 50 than under the age of 19.
With health services already at tipping point, those working in social care are reminding the public that social care has been the poor relation for decades.
According to Age NI, it is unfortunate that the system has created two different workforces despite the two sectors operating in what is supposed to be an integrated service.
In a statement to the BBC News NI, Health Minister Robin Swann said that he will be launching a public consultation on reforming social care in Northern Ireland later this year.
"Options to be addressed in this consultation will include introducing a cap on care costs incurred by individuals, but this cannot be looked at in isolation from the need to significantly increase investment," he said.
"Reforming social care is one of the biggest and most important issues facing government. I am looking forward to a wide ranging and informed public discussion on how best to get it right."
From next April, a 1.25% point increase to National Insurance - paid for by employers and workers - will raise £12bn a year.
In England, the additional money means no one will pay more than £86,000 for care. Anyone with assets less than £20,000 will pay nothing and those who have assets of between £20,000-£100,000 will have their care costs subsidised.
From 2023, the tax rise will become a separate tax on earned income and will appear on an employee's payslip as a "health and social care levy".