Northern Ireland budget: Some departments may face 'pain', warns Conor Murphy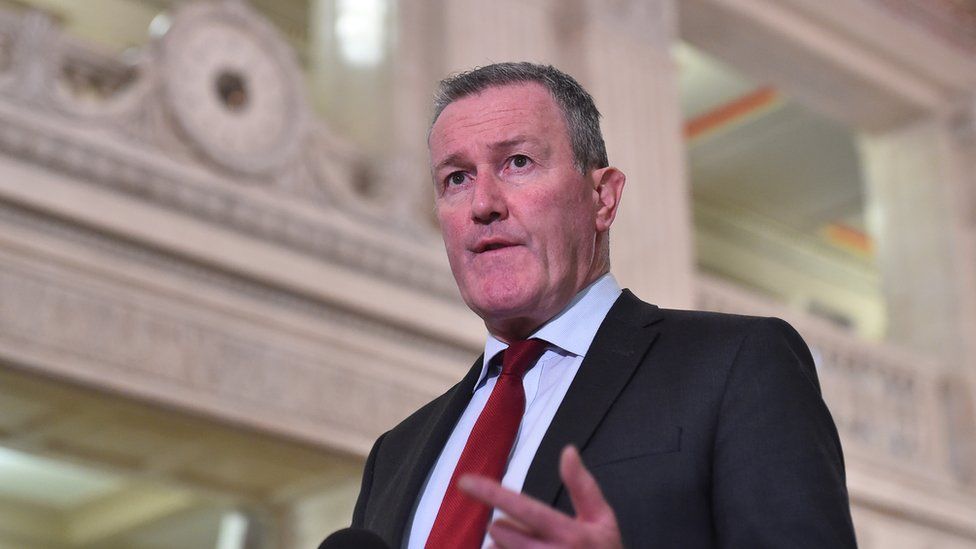 Stormont's finance minister has said some departments may face "more pain" as he prepares a three-year budget which could increase spending on health.
Conor Murphy said the executive had always "collectively agreed that health was our priority".
"We now have an opportunity in budgetary terms to put the resources to that priority," he told BBC News NI.
Mr Murphy's budget could be announced after the chancellor's UK spending review next month.
The day-to-day annual budget for health and social care is around £6.5bn, half of Stormont's revenue spending.
In April, a senior department official told MLAs that health would need an additional £400m in 2022/23 "just to stand still".
Brigitte Worth said that without extra funding it would be "extremely difficult" to deliver on rebuilding strategies for sectors such as elective care, cancer, mental health and urgent care.
Stormont and the other devolved administrations will find out their total annual funding allocations up until 2025 when the chancellor delivers his spending review on 27 October.
Stormont will then face a tight timetable to produce a budget before the end of the financial year in April.
The budget process is supposed to involve a three-month consultation, which would mean a budget being passed in late February at the earliest.
Mr Murphy said Northern Ireland's health system was under pressure because of the Covid-19 pandemic, however, he said many issues had been created through "austerity" budgets in the previous decade.
"We have spoken to all of the departments over the summer, we've asked them to look at different scenarios about what this might mean for them," he outlined.
"What I want now is a planning session with other ministers where we have a clear discussion, we set our priorities and when the budget outcome is known then at the end of October we are ready to roll to match those priorities."
Mr Murphy has also warned that it if the DUP were to collapse the executive over the Northern Ireland Protocol it will derail the budget process and make it harder for the health service to plan.
Ahead of the spending review, Stormont is due to have a regular budget reallocation process, known as a monitoring round.
It is understood Health Minister Robin Swann has asked for all of that money for his department.