Brexit: Do utmost to solve NI Protocol before end of year - Sefcovic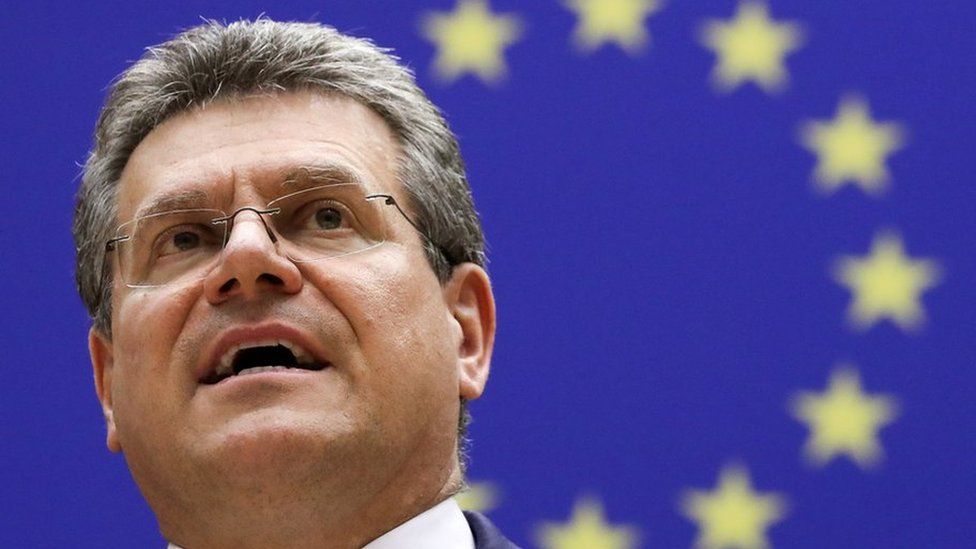 The utmost should be done to resolve outstanding issues on the Northern Ireland Protocol before the "end of the year", Maros Sefcovic has said.
The process cannot be "eternal", according to the EU Commission vice president.
Article 16 of the Northern Ireland Protocol allows parts of the deal to be unilaterally overridden.
Triggering Article 16 by the UK would be "extremely unhelpful", said Mr Šefčovič.
He added the EU would "have to react" although he hoped that scenario could be avoided.
It keeps Northern Ireland aligned with the EU's single market for goods to ensure free trade across the Irish border.
However, it has led to additional checks on goods being traded across the Irish Sea, which has drawn criticism and protests from unionists in Northern Ireland.
Mr Sefcovic made his comments following a General Affairs Council meeting on Tuesday.
He repeated the EU's position that creative solutions must be found within the protocol.
Emphasis was also placed on the need to focus on the "practical problems" facing people and businesses in Northern Ireland.
Discussions between the UK and EU on the matter were "very frequent", he added, saying that he wants a "joint solution".
He said the protocol offered unparalleled opportunities for Northern Ireland - quoting a business representative that being part of both markets is "like having the jam on both sides of the bread".
'Taking Northern Ireland backwards'
Mr Sefcovic's comments were made as it emerged the Democratic Unionist Party (DUP) leader, Sir Jeffrey Donaldson, had sent a letter to US House of Representatives Speaker Nancy Pelosi in which he said the protocol was "the altar upon which the Belfast Agreement is being sacrificed".
Sir Jeffrey wrote the EU was endangering the very agreement that "you and others purport to defend".
"This is not good for the UK, the EU or the US but most importantly it is taking Northern Ireland backwards," the letter stated.
This week she repeated her warning when she told journalists "if there is destruction of the Good Friday [Agreement] accords, they [are] very unlikely to have a UK-US bilateral".
US President Joe Biden also previously said a US trade deal with the UK hinged on "respect" for the Good Friday Agreement, the deal which helped bring an end to the Troubles in Northern Ireland.
Last year, he tweeted the US could not allow Northern Ireland's Good Friday Agreement "to become a casualty of Brexit".
The UN General Assembly is being held in New York this week and while there, UK Prime Minister Boris Johnson is visiting the White House for the first time since Mr Biden became US president.