Portrush Air Show: Cost concerns raised over new event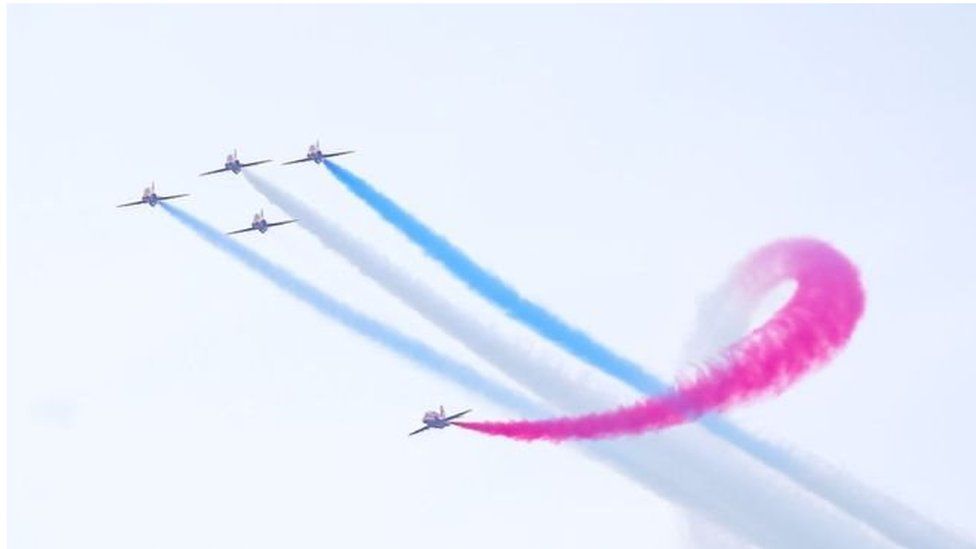 Questions have been raised about the potential cost of a new air show on the north coast in 2022.
It is proposed to take place on coastal lands between Portrush and Portstewart on 11 and 12 September.
It would be a regional event with economic benefits marking the Queen's Platinum Jubilee, a council officer said.
But Sinn Féin's Dermot Nicholl said he was "galled" plans were being put in place before a budget was confirmed.
During a meeting of the Leisure and Development Committee at Causeway Coast and Glens Borough Council on Tuesday night, he said: "I can imagine this is going to cost between £500,000 and £750,000."
The air show is understood to have cost £223,000 in 2019.
The air show in the past had been "like a military fest" and it had made people "very uncomfortable", said Mr Nicholl.
"I don't see why people in our council area should be stumping up for something like this," he added.
"There are wee groups out there looking for this and that but we can't give them it."
Democratic Unionist Party (DUP) councillor George Duddy said it was "most unfortunate politics was brought into the middle of an international air show" and that it was "astounding members would fire costs at something without even asking".
However the Mayor of Causeway Coast and Glens, Richard Holmes, did ask the council official for a rough estimate of the costs involved in organising the event.
He was told any budget would have been speculative at this stage and the council needs to agree on the location and type of event first.
The DUP's Aaron Callan said he believed it was "an exciting opportunity as we bounce back from Covid-19".
Mr Callan said the new flight line would be a "more impressive show and give spectators better viewing points".
He said the proposed event would be a "positive development for the area given the economic impact this has had in the past".
Full council will need to agree the dates, details and budget for the event before it can go ahead.