NI100: Anglo-Irish Treaty events being held to mark centenary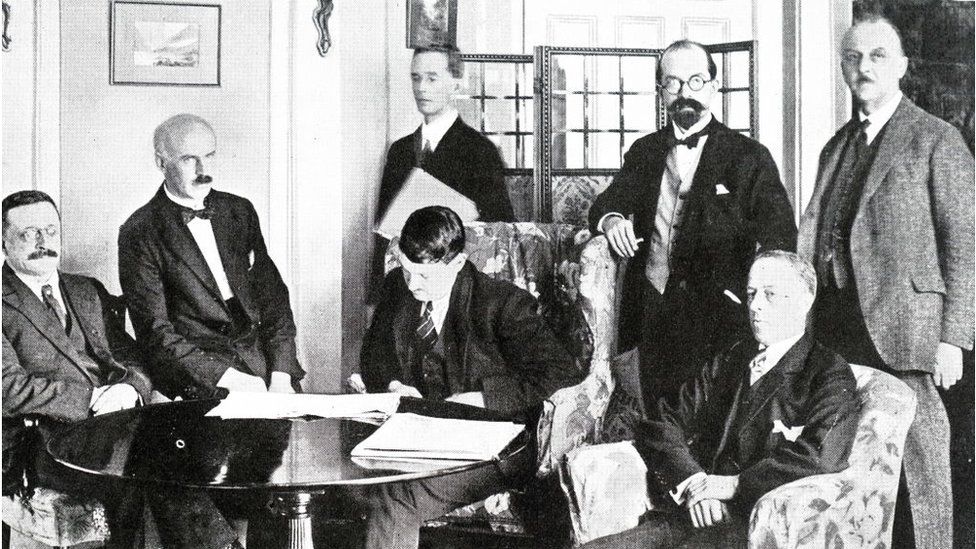 The Irish embassy in London is to organise a series of events later this year to mark the centenary of the signing of the Anglo-Irish Treaty.
The agreement, signed in December 1921, led to the formation of the Irish Free State.
Lengthy negotiations took place in London in the run-up to the treaty.
It did not secure full independence for Ireland and split opinion within Sinn Féin, leading to the Irish civil war between pro and anti-treaty factions.
At the time, the signing of the treaty was a landmark moment in British-Irish relations.
The Irish embassy's programme of events will begin in October with an exhibition of portraits of leading British and Irish figures involved in the negotiations, including Winston Churchill and Michael Collins.
They were painted by Belfast-born artist Sir John Lavery.
The series of events was announced by Ireland's ambassador to the UK Adrian O'Neill.
"The signing of the Anglo-Irish Treaty in London on 6 December 1921 was the culmination of months of negotiations - following the truce in July - and a pivotal moment that shaped the subsequent century of history between Ireland and the UK," he said.
"I am very pleased to announce a programme of events that explores the historical context of those treaty negotiations and the lives of the individuals involved.
"This centenary programme forms part of the Irish government's overall commemorations programme marking the key events in the decade of centenaries from 2012 to 2022."
As part of the programme, there will also be a new exhibition from the National Archives of Ireland, plus a series of talks and tours.
In early December, the embassy will host performances of a new play entitled The Treaty, produced by the theatre company Fishamble.
It will dramatise the story of what happened inside the negotiations, as Arthur Griffith, Michael Collins and fellow Irish negotiators engaged with Prime Minister David Lloyd George, alongside cabinet minister Winston Churchill.
"I hope members of the Irish community, friends of Ireland and those interested in Irish and British history will join us in remembering this centenary over the months ahead and I look forward to welcoming many of you to the embassy during this time," said Mr O'Neill.
The treaty was signed at the end of a pivotal year in Irish politics.
Northern Ireland was formed in May 1921 as the island was partitioned.