Translink: Campaign group 'shocked' by request to remove bike lanes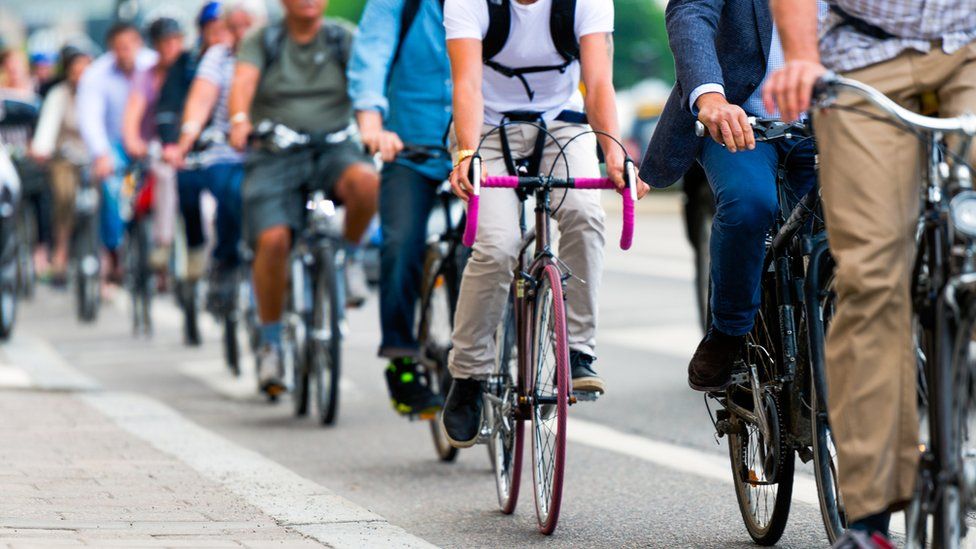 A cycling campaign group said it was "shocked" to discover that public transport body Translink has asked officials for the removal of pop-up cycle lanes in Belfast.
Translink called for the lanes to be removed or reconfigured to allow both vehicle and bicycle access.
It said they were causing disruption to some Belfast bus services.
A spokesperson for Translink, which operates bus and train services in Northern Ireland, said it was "fully committed to active and sustainable travel".
Jonathan Hobbs, a volunteer campaigner for NI Greenways, said "it's a huge step back in comparison to other cities around the world where cycle lanes are the norm".
The temporary cycleways are located on the Dublin Road, Grosvenor Road, Crumlin Road and Oldpark Road.
Translink wrote to the Department for Infrastructure, which is currently reviewing the cycle lanes, in June asking for their removal or reconfiguration.
In a seven-page review, Translink provided CCTV images which showed congestion on the routes and findings of a survey which claimed the lanes were rarely used by cyclists.
Translink staff conducted on-site counts of cycle users of the Dublin Road and Grosvenor Road cycleways.
The company's "mobile inspectorate team" carried out visual recordings of cycle lane users on Belfast's Dublin Road pop-up cycle lane for eight-and-a-half hours over six days in May and June.
The review claimed that a total of five bicycle users used the lanes during these periods, according to staff employed by the organisation.
'Disastrous for this city'
Mr Hobbs said it was "very disappointing to see the lengths such a big influential publicly owned body like Translink went to to make light of this".
Responding to the claims by Translink that the Dublin Road cycle lane is rarely used, Mr Hobbs said: "It is a popular city centre route helping healthcare workers access the City Hospital.
"They are punching down on cyclists and saying: 'These lanes are not being used, so let's rip them out.'"
He suggested the best solution would be to have a cycle lane, a new bus lane and one traffic lane.
In Translink's proposed solutions, it recommended the "removal of the pop-up cycle lanes in the immediate term" to be replaced with "sustainable travel lanes" to allow both bicycle and bus access.
It said this would provide "a net benefit to the broader sustainable transport family" and proposed a "more significant scheme" in the long term.
Mr Hobbs said pop-up cycle lanes should be made a permanent feature and if they were rolled back "it would be disastrous for this city".
"Are we to believe this cycle lane is sitting in complete isolation? I would definitely disagree and question the numbers and figures," he said.
"It's poor form and not the experience of those who use it day and daily.
"They are a real opportunity for cleaner, greener and healthier communities for Belfast.
"We need to be giving people as many options as possible to switch from the car in order to help congestion and make Belfast a liveable place."
Sustainable transport charity Sustrans NI said the number of cyclists using the Dublin Road cycle lane were similar to those using the Comber Greenway, but that official figures had not yet been released.
A Translink spokesperson said traffic had returned to pre-pandemic levels in the city centre since the installation of the Dublin Road pop-up cycle lane.
They said this has led to "some issues and delays, impacting on a large number of bus passengers".
They added that they have been working with the Department for Infrastructure and other stakeholders to identify creative solutions which retain a cycle lane while providing appropriate bus access.
A Department for Infrastructure spokesperson said it is "carrying out a review of pop-up cycle lanes and this is nearing completion".
"Numbers using the cycle lanes will be considered as part of the review.
"The group overseeing the review includes three independent members," they added.