South West College opens £30m campus in County Fermanagh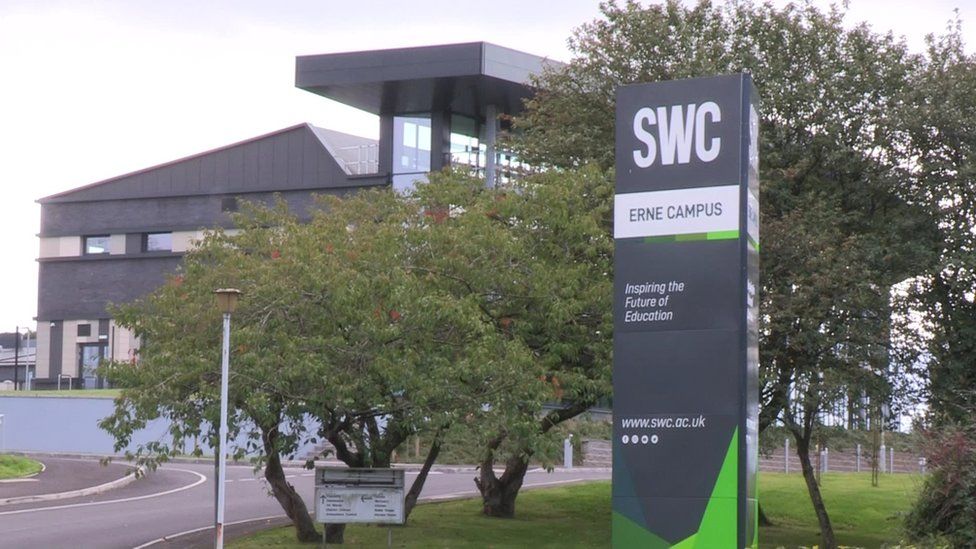 A new £30m campus has officially opened at the South West College in Enniskillen, County Fermanagh.
The Erne Campus building can accommodate 800 full-time students, 2,000 part-time students and 120 staff.
It is one of the largest environmentally-sustainable educational buildings in the world, according to the Department for the Economy.
The curved glass building has been built on the site of the old Erne Hospital.
Economy Minister Gordon Lyons, whose department funded the project, said the huge investment marks "a new era for young people" in the area.
"What we will be able to do here is train our young people up, ensure that they get those skills that we need so that they can go into our economy and have those jobs that are available there.
"It's really important that we have buildings that are not only fit for purpose but that are sustainable as well."
Solar panels, air-tight construction and other environmental technology means the building produces more renewable energy than is needed for heat and power.
It has secured PassivHaus Premium and BREEAM (Building Research Establishment's Environmental Assessment Method) outstanding accreditation - the highest environmental standards in modern construction.
The college is looking to capitalise on this by delivering courses in wind, biomass, sustainable construction, hydrogen, energy storage and sustainable food.
South West College chief executive Michael McAlister said they had seen a spike in applications from students.
"We have a number of unique programs here that are running purely because of the building that we have here as an exemplar.
"We've actually had 250 students studying and achieving PassivHaus qualifications which are unique to this college."
South West College was formed from the merger of a number of technical colleges and while some students still call it the "tech" this modern building is full of state-of-the-art facilities.
There is a cyber centre, science labs, media suites, training and production kitchens for hospitality, hairdressing and beauty salons.
Creative media student Rory McManus said the building was "amazing" with lots of facilities for students and areas to socialise.
"Last year was a really tough year remote with learning and all, we were kind of bounced between home and tech," he said.
"So being back in and seeing people and being able to just be in a classroom environment again is a really good change, and a very welcome change."
Chloe McNeill is studying a health and social care foundation degree.
Chloe McNeill is studying a health and social care foundation degree.
Compared to the old college building she said there is much more space.
"There is a big difference because the other building was very small and the classrooms were very compact and everything, so it's a huge difference.
"It's really good, it's really well equipped and everything, and the tutors are really helpful," she added.