Covid-19: Andrew Girvin feared mother would die from virus he gave her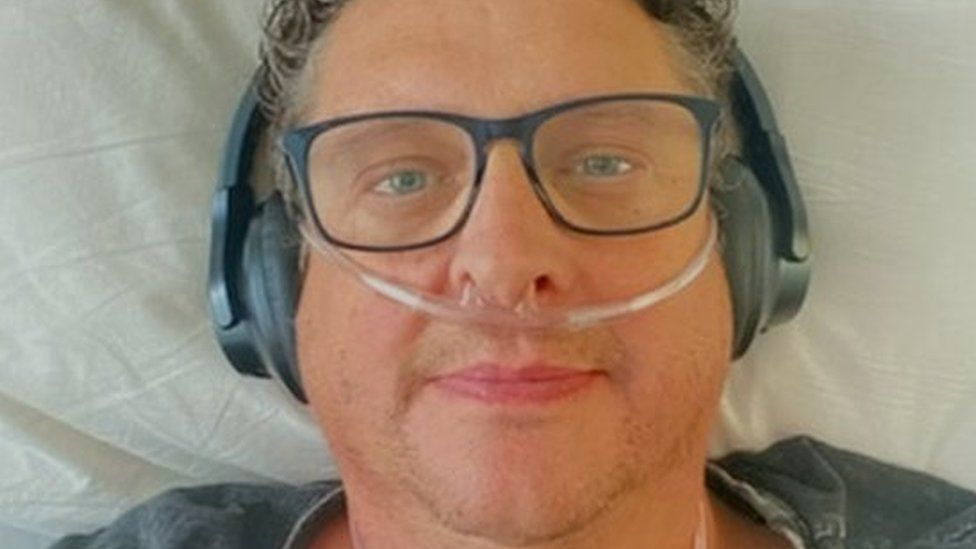 An unvaccinated former unionist councillor who became seriously ill with Covid-19 feared his mother would die from the virus she got from him.
Andrew Girvin, 48, caught Covid at the start of August.
Within a week 19 family members had the virus, including his grandparents and six-year-old daughter.
"It was without a doubt that it was me who gave it to her," the former Traditional Unionist Voice (TUV) councillor told BBC Radio Ulster's The Nolan Show.
"I was lying in bed in hospital and she was in the other hospital and she looked a lot worse than I was.
"To think that you've given your mum something that could eventually kill her isn't a nice place to be.
"Plus you're dealing with your own Covid as well, so all that stress and strain and trying to survive through all that - it's a horrible place to be."
'Why did I not get the vaccine?'
Mr Girvin said while he was never anti-vaccine and had initially supported lockdowns, he began to have questions about them.
"Procrastination was what got in the way of it," he said.
"I was sort of a person who was in between it and questioning both sides, I wouldn't have been on one side or the other."
He said the virus initially felt like a cold, then a heavy flu, until it got to the point where he could barely walk to the living room door because he found it so hard to breathe.
"I remember going into the ambulance, driving off in the ambulance and seeing the kids - that was the toughest part, waving bye bye at the window thinking I would never see them again," he said.
While in hospital he had to wear a CPAP mask and was told he would die if he took it off.
"The consultant was giving me a 50-50 chance of survival. That was scary," he said.
"Whenever I was lying there thinking I was going to die, I was going 'why did I not just take it'?
"Why did I not just hedge my bets and take the vaccine?"
Mr Girvin said the nurses looking after him "were going through hell on those wards".
He said he would not wish Covid on his worst enemies and added that if his story helps save a life "I'll take the hate that goes along with that".
"If it was me talking to myself back then, I would say consider your family, consider life and consider your future with your family, because in the matter of a week or a few days it could all change," he said.
"And this time next week they may not see you and you may not see them.
"Life's too important just to dismiss something. Vaccines have been out for years.
"If it saves a life it's worth it. If it saves a whole family from devastation it's worth it."
Call for vaccine passports
Meanwhile, SDLP leader Colum Eastwood has called for vaccine passports - which restrict who can enter certain venues - to be introduced in Northern Ireland.
"I think this is the moment for taking tough decisions," Mr Eastwood told BBC One's Nolan Live.
"It will either be a decision to have further restrictions, further lockdowns... or it'll be vaccine passports for going into restaurants, bars, gyms."
New Covid passport rules will begin in Scotland and Wales in October.
Similar plans in England have been scrapped, but will be kept in reserve in case they are needed this winter.
Mr Eastwood also called for all mandatory vaccination for care home workers in Northern Ireland.
"If I had an elderly relative living in a care home, I'd be very concerned about their health and Covid-19 and I'd want to ensure that everybody working in their care home was vaccinated," said the Foyle MP.
'Nonsense on social media'
Earlier, Agriculture Minister Edwin Poots has said people in Northern Ireland who have yet to receive the Covid-19 vaccine need to "catch themselves on".
He told BBC News NI that some people "couldn't be bothered" to get vaccinated, and others had "listened to nonsense going out on social media".
"It's not going to be some new world order thing," he said.
"People who really need cancer care in hospital and other major life-saving surgeries cannot get it because those beds are full of people that haven't been vaccinated."
He said intensive care units were "full of people" who have not received the vaccine.
"It's something that's been worked out by hundreds of different scientists from different institutions across the world and we need the vaccination to be rolled out to as many as possible," Mr Poots added.
Health Minister Robin Swann added the health service could "struggle" in the coming months and said "the more people who are vaccinated, the less people who will end up in hospital".
The minister visited staff at a pop-up "Jab & Go" vaccination clinic at the Balmoral Show on Wednesday.
He said officials had noticed a challenge in "getting rural people vaccinated because we know of the time pressures and constraints they are under".
"We are heading into what is normal winter pressures but that coupled with Covid will be a struggle, so that is why we need to take decisions now to ease that pressure and getting vaccinated is one of those," he added.
Last week, the Department of Health said unvaccinated people made up 12% of the adult population in Northern Ireland, but 72% of people in intensive care.
It said adults who have not had two vaccine doses are five times more likely to be admitted to hospital, and 10 times more likely to be admitted to intensive care.
Northern Ireland has the lowest vaccine uptake rate in the UK, with 87.1% of people over-16 who have taken the first dose, and 80.1% having taken the second dose.
Across the entire UK, 89.4% of people over 16 have received the first dose of the vaccine, while 81.9% have received the second dose.
Wales has the highest vaccination rate out of the nations, with 91.4% of those over 16 having received the first dose, and 84.8% having received the second.
In Northern Ireland, as of Tuesday, a total of 2,508,203 vaccines have been administered, including 1,306,326 first doses, and 1,201,657 second doses.