Edwin Poots wants immigration rules relaxed over farm labour shortage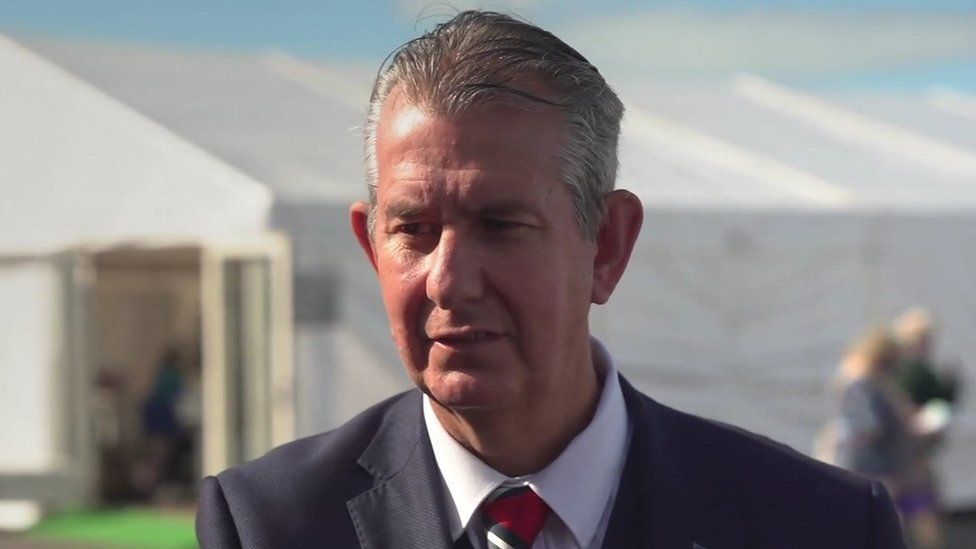 Northern Ireland's agriculture minister is proposing that immigration rules be relaxed to allow Filipino meat plant workers into the UK.
Some food manufacturers in Northern Ireland are facing staff shortages.
The industry has been dependent on a flow of EU workers, which has stopped due to the UK's post-Brexit migration rules.
"There are butchers from the Philippines who are ready to come here," Edwin Poots told BBC News NI.
'They will be well paid... they just don't have the English, so we need a bit of an amendment to that."
People entering the UK on a skilled work visa must be able to prove an intermediate level of language proficiency.
Mr Poots said his party has been lobbying government ministers, including the home secretary, to make a change.
He added that action was needed on staff shortages within weeks or "'we will have a real problem running into Christmas".
"Right across the United Kingdom there is a shortage of workers in the food supply industry and that really needs to change," he said.
"We could be in the bizarre situation of having food shortages on our shelves and healthy animals slaughtered on farm and not used for food production.
"It would be a ridiculous situation if we were trying to import food from other parts of the world because of a labour shortage issue in the UK."
Deirdre McIvor, chief executive of the NI Pork and Bacon Forum, said the labour shortage had become acute since the closure of the EU settlement scheme in June.
She told BBC News NI: "Since the end of June a lot of the workers returned back across to Europe and resettled there.
"The situation in the factories is so crucial at the minute that we are not able to fulfil orders for the retailers which is already leading to shortage of product on the shelves."
BBC News NI has also seen a letter from a major Northern Ireland food producer apologising to customers for not being able to fulfil orders due to staff shortages.
The letter lays out the action the firm has taken, including increasing pay, investing in automation, paying retention bonuses and contracting new recruitment agencies.
It added: "It hasn't worked. We simply cannot get the staff to fulfil our orders."
Victor Chestnutt warned that the situation was "precarious" and that pig farmers were "simply running out of room" for their livestock.