File on ex-RUC officer sent to prosecutors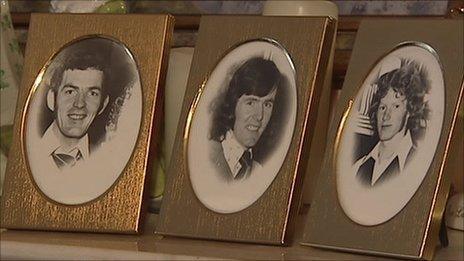 Prosecutors have been asked to examine "potential offences" by a former police officer, including the murders of three brothers in 1976.
Brian, John Martin and Anthony Reavey, were shot by loyalist paramilitaries in their home in Whitecross, County Armagh.
The Police Ombudsman has submitted a "prosecutorial advice file" to the Public Prosecution Service.
The officer was a former member of the Royal Ulster Constabulary (RUC).
The Public Prosecution Service will make a decision on whether or not there is enough evidence to press any charges.
The Catholic Reavey brothers were attacked during a spate of sectarian shootings in January 1976.
They were among 16 people killed in a 24-hour period during an upsurge in Troubles-related violence.
Brian Reavey, who was 22, and his 24-year-old brother John both died at the scene of the gun attack.
Their younger brother Anthony, who was 17, was wounded in the shooting and died three weeks later.
The murders have been attributed to the Ulster Volunteer Force (UVF).
A spokesman for the Police Ombudsman's Office said it had "submitted a prosecutorial advice file to the Public Prosecution Service in relation to potential offences by a former RUC officer in the 1970s".
"The potential offences include the murders of brothers John, Anthony and Brian Reavey at Whitecross in Co. Armagh in 1976," he added,