Coronavirus: Elective surgery hubs planned for winter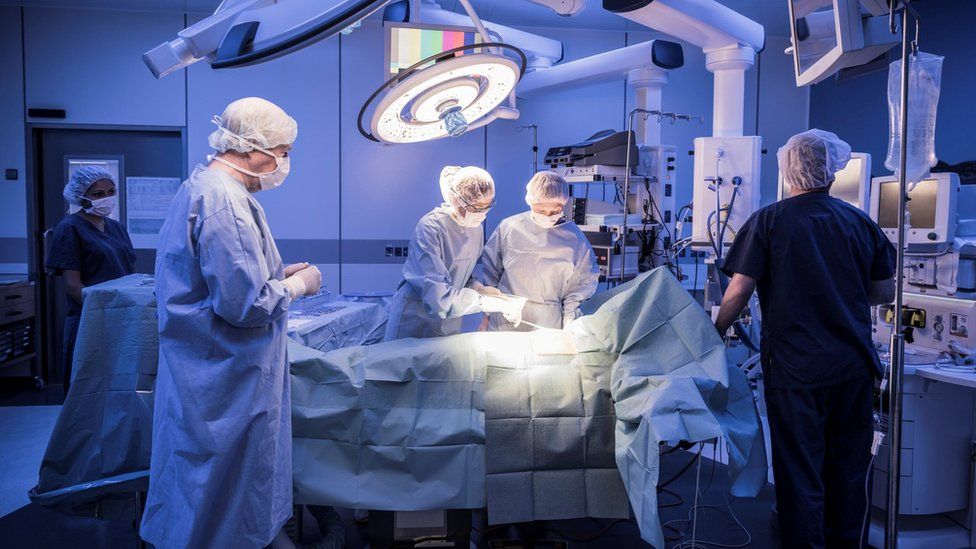 Elective surgery hubs are to be created to ensure planned operations will continue safely through the winter, the health minister has said.
Robin Swann said the sites would include Musgrave Park Hospital in Belfast and the hospital and primary care complex in Omagh.
A workforce appeal will also be launched on Thursday aimed at retired staff and others who had recently left.
They will be deployed to support the continuation of surgery services.
In a press conference, Mr Swann again appealed for unvaccinated people to come forward to receive a jab.
Speaking directly to staff, he said he recognised they were "hurting and frustrated and exhausted" by the pandemic pressures.
'Best way to keep surgery going'
The Royal College of Surgeons welcomed the plans.
"The college has long recommended the rollout of elective surgical hubs on Covid-light sites," said Mark Taylor, the college's Northern Ireland director.
"These hubs separate elective surgery from emergency care.
"They are the best way to keep surgery going if there are further outbreaks of Covid-19, flu or other winter-related pressures."
The chief executive of the Belfast Health Trust, Dr Cathy Jack, also made a direct appeal for beds.
She said health and social care was not delivering as it should, despite the best efforts of staff.
"This pandemic is far from over," Dr Jack added.
"Let me be direct, health and social care is besieged.
"In terms of hospital care, we are continuing to experience immense pressure caused by an increased demand for urgent and unscheduled care coupled with sustained high Covid-19 infections."
The chief executive said bed space that the trust can "safely staff" was limited, both due to high patient numbers and also staff availability.
She added that 70% of Covid-19 patients in intensive care units across Northern Ireland were unvaccinated.
Dr Jack outlined that if Covid-19 spreads freely and the vaccination rate does not rise above 90% "we will face a grim winter ahead".
On the question of lockdowns, circuit breakers or further restrictions, the health minister said no option could be taken off the table.
However, Mr Swann said he was not going to be defeatist and explained they were not inevitable.
Mr Swann said everyone needed to pull in the right direction and make the same safety decisions about masks, handwashing, ventilation and avoiding unnecessary contacts.
Earlier this week, the health minister joined First Minister Paul Givan and Deputy First Minister Michelle O'Neill to make a direct appeal over the health service.