Reports of online child sexual abuse in NI rise by 80%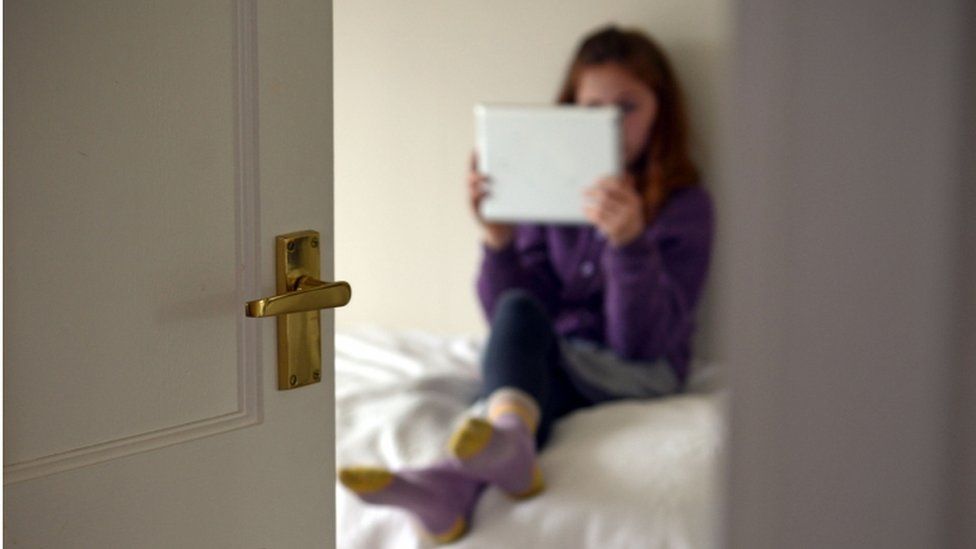 Online child sexual abuse cases recorded by police in Northern Ireland have increased by 80% over the past three years.
Figures obtained by the NSPCC show there were 308 offences recorded in 2020-21, an all time high.
These offences include assault, rape and sexual communication with a child where any element was committed online.
Further Stormont funding for an online safety strategy was postponed until next year due to Covid-19 pressures.
The NSPCC is calling for the online safety strategy and action plan to be fully funded and implemented immediately.
Natalie Whelehan, of NSPCC Northern Ireland, said the decision to postpone the funding was "hugely disappointing".
"This plan has been in development for some time now," she told the BBC's Good Morning Ulster programme.
"We really need to see the Northern Ireland Executive showing that it takes this threat to our children's safety online seriously and fully funding and implementing this strategy without any further delay."
Ms Whelehan said child safety should be "the yardstick against which the actions of our government are judged".
'Underreported and misunderstood'
Det Supt Gary Reid of the Police Service of Northern Ireland (PSNI) public protection branch said the number of children subjected to online sexual abuse could much higher than reported.
In spite of the significant increase in reports, Det Supt Reid said it was "still an underreported and misunderstood crime".
"Many children are unable to raise the alarm to a trusted adult as they are not even aware that they are being manipulated," he said.
He encouraged people to recognise and report abuse in order to "prevent these crimes from devastating even more families".
Last year, the National Crime Agency (NCA) said it believed were at least 300,000 individuals in the UK who posed a sexual threat to children, either through physical contact or online.
The NSPCC has also said government plans to regulate social media may not be enough to keep children safe.
In a statement, it said the Draft Online Safety Bill, published in May, needs to go further to proportionally respond to the "scale and nature of the child abuse problem".
In a statement, the Department of Health said funding was due to be allocated to the Safeguarding Board for Northern Ireland to appoint a regional coordinator and to schools to "facilitate self-assessments".
"Unfortunately, as a result of COVID-related and other pressures, it has not been possible to progress the plan as intended," it said.