NI emergency department closures not inevitable - Robin Swann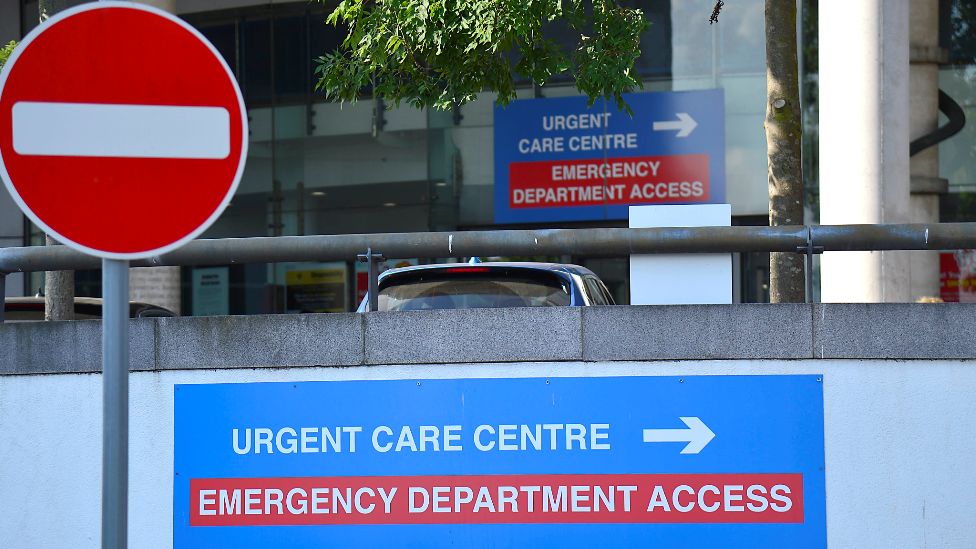 The closure of emergency departments over the winter is not inevitable Health Minister Robin Swann has said.
It follows a warning from Dr Seamus O'Reilly, medical director of the Northern Health Trust, who said an emergency department may have to shut.
Dr O'Reilly said it was due to severe pressures on the health service.
Mr Swann said staff were doing everything they could to prevent hospitals from redirecting patients elsewhere.
He said: "It's not inevitable, I don't want that to happen, the people working in our trusts, the people working in our EDs don't want it to happen either.
"I think it's right that we put out that precautionary message, that that is what could happen, but nobody wants it to get there."
Mr Swann also called on the public to play their part by coming forward to receive Covid and flu vaccines.
Earlier, the chief executive of the Western Health Trust apologised for delays admitting patients to hospitals.
More than 60 people were waiting in trust emergency departments on Tuesday as there were no beds in Altnagelvin Hospital or South West Acute Hospital.
Emergency departments across Northern Ireland reported extremely high numbers of patients over the weekend.
One person had to wait 44 hours in an emergency department to be admitted to the Ulster Hospital.
The South Eastern Health Trust confirmed that another patient spent 12 hours in an ambulance before admission.
Mr Swann's comments came as he opened a new £115m acute services block at the Ulster Hospital in Dundonald.
The facility will house the hospital's new emergency department from next spring providing 213 beds across nine wards.
On Saturday the medical, stroke, renal, gynaecology and care of the elderly wards will transfer to the new complex.
The South Eastern Health Trust's chief executive Roisin Coulter said it would allow staff to provide the highest quality of care to patients.
She said: "We are immensely proud of the acute services block which delivers state of the art facilities to improve infection control, patient experience, privacy and dignity and will provide our staff with fit for purpose, modern facilities."