Chief vet call after bird flu confirmed in County Monaghan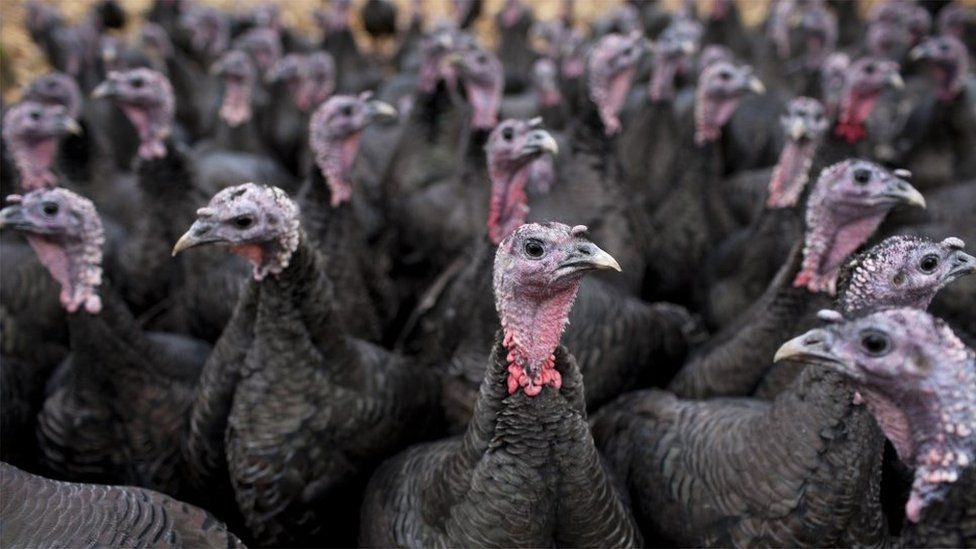 Bird keepers have been urged to improve their biosecurity after avian influenza was confirmed in a commercial turkey flock in County Monaghan.
The chief vet for Northern Ireland, Robert Huey, and Agriculture Minister Edwin Poots made the call on Sunday.
The Irish government has ordered all bird keepers to house their flocks.
Officials said cases in Great Britain and Ireland suggests avian influenza could already be in Northern Ireland.
There is no evidence that the disease can infect humans, but it could pose a serious threat to the poultry industry, according to Mr Huey.
Restrictions were put in place in the Republic of Ireland after the virus was detected in wild birds earlier in November.
Stormont's Department of Agriculture, Environment and Rural Affairs (DAERA) said there have been no confirmed cases in Northern Ireland to date, although officials have ruled out six suspected cases.
The strain of bird flu (H5N1) is described as "highly pathogenic", as it is often fatal to birds that catch it.
Northern Ireland's chief vet told the BBC's Good Morning Ulster programme that the threat is concerning because the poultry industry is very important to the local economy.
"If we were to confirm avian influenza in Northern Ireland it would have quite a devastating effect economically on that industry, as well as on the farming families and those people dealing with the disease.
"This is both important at an economic national level and at individual farm level," Mr Huey said.
It bans poultry gatherings and bird keepers are already taking steps to protect their flocks.
The restrictions apply to everyone, from hobby flock owners to commercial farmers.
Mr Huey said that although the case in Monaghan was concerning, it had been anticipated.
"The bird flu/avian influenza has been with us now for three to weeks, coming across from eastern Europe, through the lowlands of Europe into England and it's not unexpected.
"It's a little earlier this year than we would have wished, but it's fair to say that it's in these islands and that all poultry keepers need to take action to try and protect their own birds."
The chief vet added it was important to reassure people that there was no risk to public health from the disease.
He explained that this had been made clear by both the UK Health Security Agency and the Food Standards Agency (FSA).
"The FSA said as long as you cook your poultry and your eggs, there's no risk from food either and that's quite important that people don't panic about this.
"This is a bird disease, this particular strain really just stays in poultry," the chief vet said.
"Although we take protection measures whenever people are dealing with an outbreak, so far it hasn't shown any inclination to affect humans at all."