School uniforms: 'Huge discrepancy' in NI grant compared to rest of UK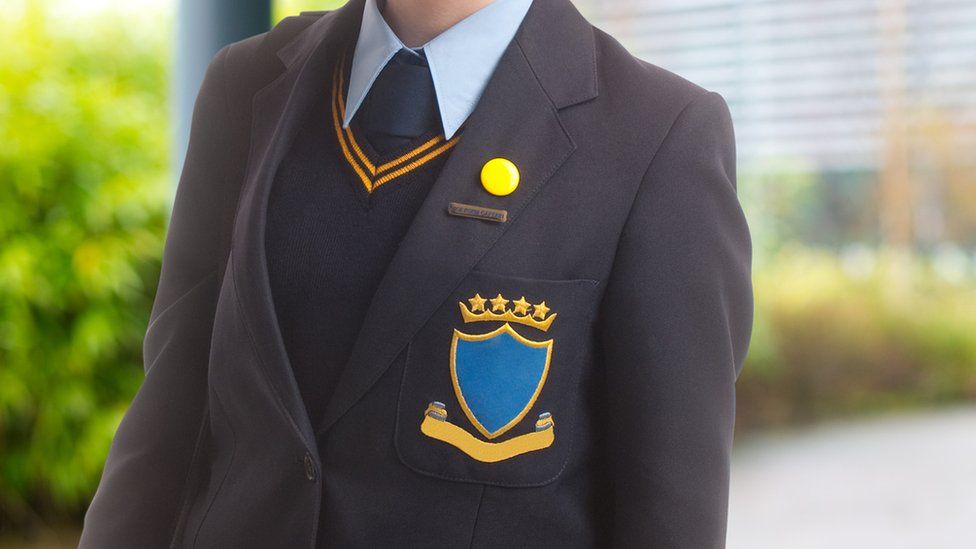 There is a "huge discrepancy" between the school uniform grant available to families in Northern Ireland and elsewhere in the UK.
That is according to a Department of Education (DE) official. It has begun a review of the uniform grant.
Families in Northern Ireland can receive more than £100 less per child compared to those in England, Scotland and Wales.
That is "shocking", Northern Ireland assembly members said.
A parents' group has also called for a wider statutory cap on school uniform prices, saying they are a "source of financial stress" for many families.
A paper by the Northern Ireland Assembly's Research and Information Service, published in May, cited recent research from the Irish League of Credit Unions on school uniform costs.
It suggested parents spent £131 on primary school uniforms and £177 on post-primary uniforms when preparing their children for the return to school.
Separate UK-wide research by the Children's Society suggested that parents spent on average £337 per year on school uniforms for each secondary school child and £315 on each primary school child.
A review of free school meals and uniform grant criteria is being carried out by DE and is expected to take about 18 months.
It will consider the current rate of the school uniform grant in Northern Ireland.
Low-income families can receive a grant of £35.75 towards the cost of a primary school uniform and between £73-£78 towards the cost of a post-primary uniform and PE kit.
But appearing before MLAs on Stormont's Education Committee, Margaret Rose McNaughton from DE said there was a "huge discrepancy" between the uniform grant in Northern Ireland and elsewhere in the UK.
According to figures provided by DE, parents can claim up to £150 per child in England, between £125 and £200 in Wales and at least £120 to £150 in Scotland.
The level of grant in England, though, depends on which council area parents live in and in some areas it can be lower than that in Northern Ireland.
"The contribution to the uniform grant is very small in terms of the actual cost of what the uniform is and that is why we need to address the difference there," Ms McNaughton told MLAs.
"There is a real discrepancy in our costs and that is something that we are mindful of."
SDLP MLA Justin McNulty described the difference as "shocking".
"That's a really bad indictment on the department in terms of what's provided elsewhere and what's provided here," he said.
Ms McNaughton said that a constrained education budget was one reason for the discrepancy.
"The budgets have been so particularly tight over the last number of years," she said.
"We know that there is a huge discrepancy there and that is what we're hoping to address as part of this review.
"In terms of the amount of a grant it all comes down to the amount of money available."
The Education Committee chairman, Alliance MLA Chris Lyttle, also said there was "an urgent need to increase a grant that has stayed the same for over a decade".
Sinn Féin MLA Nicola Brogan said that the cost of expensive uniforms at some schools was "a barrier to education" for some pupils.
The Parental Engagement Group (PEG) - which is represented on a forum established by DE for the review of free school meals and uniform grant criteria - is calling for "bespoke legislation" in Northern Ireland which would introduce a cap on uniform costs.
"In particular, we are concerned about the cost of branded items, the use of limited suppliers, thus limited choice and driving up price, use of non-high street options, as well as badges and embroidered items (such as blazers and sports kit)," PEG said.
"Without statutory intervention costs will continue to rise and some schools will become inaccessible for low-income families."
Northern Ireland's Commissioner for Children and Young People Koulla Yiasouma has also previously said she would "support compulsory guidance, regulation or legislation that would ensure affordable uniforms for all children".