Aidan O'Kane new Londonderry Chamber of Commerce president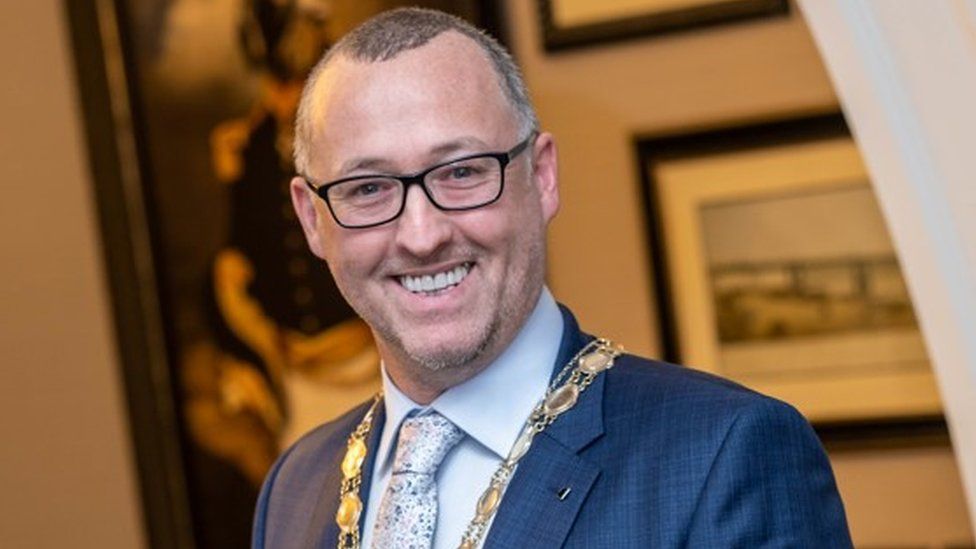 The key aims of the Londonderry Chamber of Commerce in 2022 will be "rebuild, revitalisation and regeneration," their new president has said.
Aidan O'Kane, a tech company director, was appointed as the 79th president of the chamber at an event on Thursday.
The director at NI's largest IT company, Allstate NI, takes over from outgoing president, Dawn McLaughlin.
"It's an absolute immense professional privilege to be elected president," Mr O'Kane told BBC Radio Foyle on Friday.
"It goes without saying that while 2020 and this year appeared bleak, it has given us an opportunity to capitalise on this bounce back," he said.
Mr O'Kane called on elected representatives to prioritise the north west ahead of next year's assembly election.
"A message going out from our partners is to make sure they capitalise on this particular region, the strengths it has with cross-border co-operation and in terms of the businesses community here.
"If we invest heavily in our businesses, among our stakeholders, there is going to be a payback for the Northern Ireland Executive," he said.
The president also said that everything must be done to avoid the possibility of any new Covid-19 restrictions being placed on businesses in the new year.
"We would be very concerned if there was more restrictions put in place as it would have a real negative impact on our local businesses, particularly our hospitality sector," he said.
He called on everyone "to do their part" in the battle against Covid-19 by following the current guidelines to ensure that further restrictions can potentially be avoided.
Mr O'Kane will be supported in his role by Selina Horshi, managing director at the White Horse Hotel in Derry, who will be the chamber's vice-president for 2022.