Bird flu outbreak 'largest ever in these islands'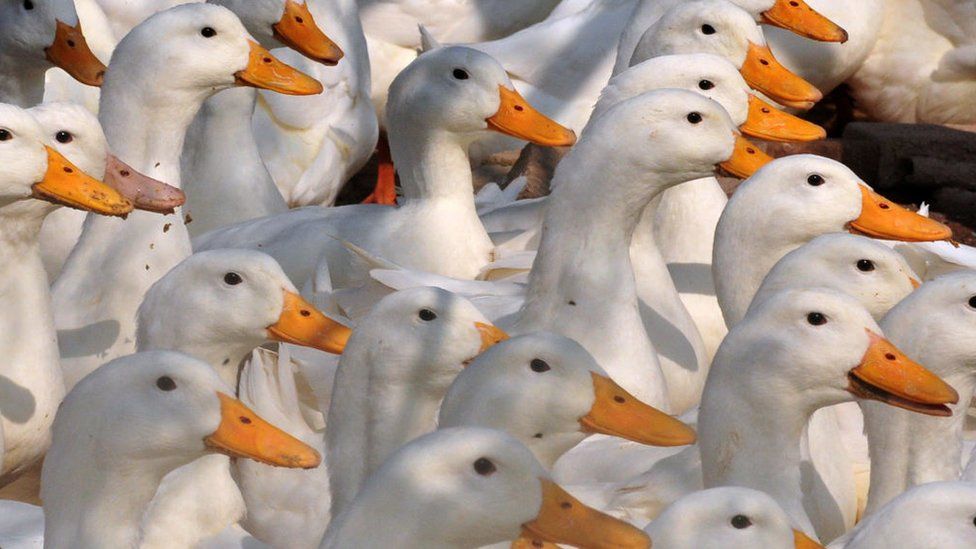 The current outbreak of avian influenza is "the largest ever in these islands", Northern Ireland agriculture officials have said.
Departmental officials were speaking at Stormont's Agriculture and Environment Committee on Thursday.
Highly Pathogenic Avian Influenza H5N1 has been confirmed in nine wild birds at five locations in Northern Ireland, the committee was told.
Culls of flocks in those two areas were completed earlier this week.
Department of Agriculture, Environment and Rural Affairs (Daera) officials told the committee that two swans were collected from the Waterworks in Belfast last month to confirm the presence of the virus, as part of ongoing surveillance.
The strain has also been found in wild birds at West Belfast Lough, Monlough Lough in Carryduff, Hillsborough and the Loughshore in Portadown.
Officials said once the virus was confirmed in the Waterworks, it was up to Belfast City Council as the landowner to take decisions about the site.
"Daera has responsibility for the control of avian influenza in kept poultry and captive birds," Jim Blee from the department told committee members.
"It is unfortunate that the native wild bird population has become affected by these migratory wild birds, but there are a couple of things in that.
"It's very hard to predict that happening, and it's also virtually impossible to prevent," he said.
"Daera has no statutory role in the control of the virus in wild birds," he added.
The Public Health Agency said while the risk to humans from bird flu is very low, people should not handle sick or dead birds.
Officials told the committee the 1.8m (3km) protection zone would stay in place around affected sites for 21 days, and the 10km surveillance zone for 30 days.
As well as the two zones in place in Northern Ireland, there are four zones in the Republic of Ireland - three in County Monaghan and one in County Cavan.
Virus from migratory wild birds
One in Monaghan and the Cavan zone extend into Northern Ireland, and corresponding zones have been put in place in those areas by the department.
A fourth outbreak in the Republic of Ireland was confirmed in a turkey flock in County Cavan.
The birds are being culled.
It is understood the control zone around the affected premises extends across the border into County Fermanagh, where Daera has put a corresponding zone in place.
Officials urged flock owners to follow strict biosecurity measures to help stop the spread of the virus, by preventing wild birds having contact with kept birds.
Asked if any of the detected outbreaks would affect the supply of turkeys, ducks and other poultry for Christmas, officials said much of the Christmas kill had already happened and availability was unlikely to be disrupted.