Bird flu: Two suspected cases in Markethill and Coagh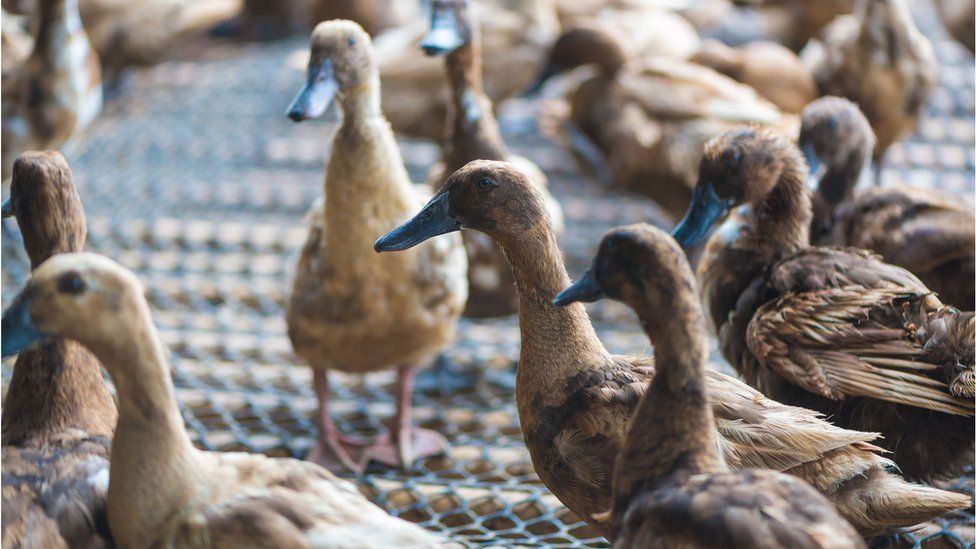 Another two suspected cases of bird flu have been identified in commercial flocks in counties Armagh and Tyrone.
Across both flocks, more than 30,000 poultry and ducks will be culled.
A temporary control zone has been established around the sites at Markethill and Coagh.
Chief veterinary officer Dr Robert Huey said this was the biggest ever outbreak of highly pathogenic avian influenza in Northern Ireland.
The commercial duck flock of approximately 22,000 in Coagh and about 14,000 commercial poultry in Markethill will be humanely killed as part of precautions to try to prevent spread.
That has included 22,100 ducks at a farm owned by Silverhill Duck in Aughnacloy, County Tyrone, and about 30 birds in a backyard hobby flock in Broughshane, County Antrim.
The strain identified in both flocks was officially confirmed this week as highly pathogenic avian influenza H5N1, one which spreads rapidly and kills birds.
It is regarded as posing a serious threat to the poultry industry, which is of major economic importance in Northern Ireland.
Agriculture Minister Edwin Poots said the outbreak was now at a "critical point".
"This strain of H5N1 spreads quickly and could wipe out an entire flock in a matter of days," said Mr Poots.
"I am urging all bird keepers to proactively assess your current biosecurity measures and re-double your efforts to keep this disease out of your flocks."
Bird owners have been advised to keep flocks housed, wash hands after dealing with the birds, wear disposable boiler suits, keep surrounding areas clean and only have essential vehicles coming onto sites.
Mr Poots added: "We cannot afford to be complacent and must act now to protect our flocks."