Spend Local scheme helps lift November retail sales - survey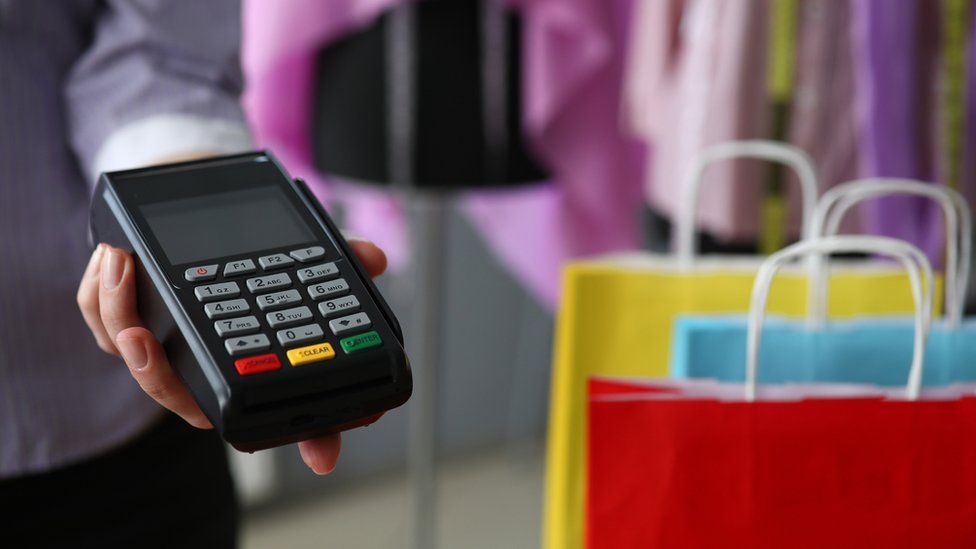 Retail sales in Northern Ireland rose in November for the first time in four months, according to an Ulster Bank survey.
The bank's monthly survey of private sector businesses is considered a reliable indicator of economic performance.
The report also indicated employment levels continued to grow.
Supply chain problems remain and inflationary pressures were described as severe.
Ulster Bank's chief economist Richard Ramsey pointed to the High Street Voucher Scheme as one reason for the rise in retail activity.
"Northern Ireland saw the pace of business activity accelerate in November, but this uptick was solely down to a rebound in one sector, retail," he said.
"Local retail sales rose in November for the first time in four months with the High Street Voucher Scheme undoubtedly contributing to the pick-up in demand."
Christmas shopping is also likely to be a factor for the rise in November trade.
Mr Ramsey said that, overall, manufacturing remained the strongest performer of the four sectors monitored in the local economy, despite that industry experiencing slower rates of growth relative to October.
"Services firms, on the other hand, reported their slowest rate of expansion in business activity in eight months, and incoming orders were broadly flat, while construction firms notched up their fifth successive month of contraction in both output and orders," he added.
"Manufacturing aside, the near-term outlook for the private sector remains challenging.
"Indeed, retail's pick-up in sales in November coincides with a slump in new orders, pointing to a slowdown over the months ahead."
Economy Minister Gordon Lyons has said some people still need to activate and use their Spend Local cards.
"The scheme is boosting our economy by an extra £2m on average every single day and that is over £121m so far," he said.
"The Northern Ireland Retail Consortium has credited the scheme with boosting the number of shoppers on our High Streets to their highest levels since before the pandemic.
"While this is a clear success, it is important to me and to our businesses that every penny on every card is spent in order to maximise the impact."
The Ulster Bank survey also indicated that Northern Ireland's private sector recovery continues to lag behind other UK regions.
"After the north east of England, Northern Ireland recorded the slowest rate of growth in business activity," Mr Ramsey said.
"Northern Ireland was the only one of the 12 UK regions to record a fall in new orders in November.
"November's decline extended the run of falling orders to 34 months.
"Manufacturing is the only sector in Northern Ireland that appears to be outperforming the UK."