Belfast's Black Santa begins charity sit-out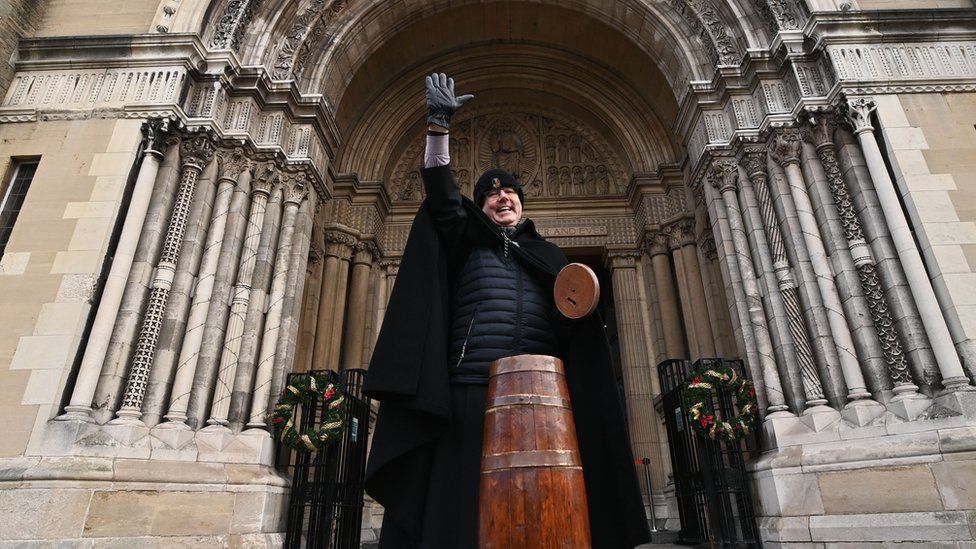 Belfast's Black Santa has begun his annual Christmas sit-out for charity at St Anne's Cathedral.
Dean Stephen Forde will be on the steps of the cathedral from 13 December to 24 December.
This year, the dean has a particular focus on charities which work with refugee communities in Northern Ireland and on groups supporting people with disability.
A total of £230,000 was raised for more than 200 charities in 2020.
Dean Stephen Forde said he wanted to use the sit-out this year to try and tackle "prejudice and misconception".
"Fortunately, few of us will experience what forces some people to flee as refugees," he said.
"Those who come here because of their fear of persecution for reasons such as race, religion or sexuality do so because they believe they will be safer in this place.
"But the likelihood of a minority ethnic person experiencing a racist attack in Northern Ireland is 17 times higher than a person from a Catholic or Protestant background experiencing a sectarian attack.
"As a society, and as individuals, we need to do more to stand up to hate crime in Northern Ireland."
The Belfast Black Santa campaign was started in 1976 by Dean Sammy Crooks, who wore black robes for the fundraiser.
People can donate directly by putting cash into the famous barrel at the cathedral.
The appeal website is also accepting online donations.