NI exports fell by 13% during 2020 as pandemic disrupted trade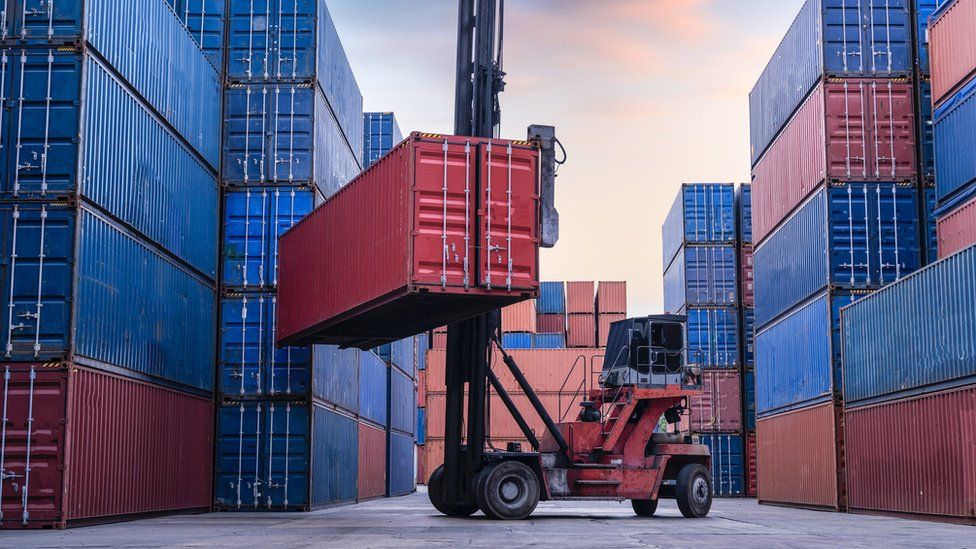 Exports by Northern Ireland businesses fell by almost 13% in 2020 as the pandemic disrupted trade.
Sales to the rest of the UK rose marginally, while sales within Northern Ireland were down by 6%.
That meant that overall sales of goods and services were down by 6% or £4.3bn to £67bn.
It will be December 2022 before official data will be available which will show the impact of the Northern Ireland Protocol.
Great Britain remained Northern Ireland's biggest external market in 2020, accounting for just over half of all external sales which amounted to £10.9bn.
The Republic of Ireland was the largest export market with sales of £4.4bn.
Exports to the Republic fell by 10% compared to 2019, exports to other EU destinations were down by almost 11% and exports to the rest of the world were down by 16%.
In 2020, the largest proportion of export sales was from the manufacturing sector which accounted for 58.4% (£6bn) of all exports.
Manufacturing exports decreased by 13% over the year, but have increased by 8.4% between 2011 and 2020.
The statistics agency Nisra has cautioned that the figures may be subject to higher revisions than normal because the pandemic impacted the collection of data.
The survey response rate was below 60% when it is normally around 70%.
More recent data from Ireland's statistics office and industry surveys suggest that exports are likely to have recovered strongly in 2021.