Covid-19: NI to scrap vaccine passports in pubs and restaurants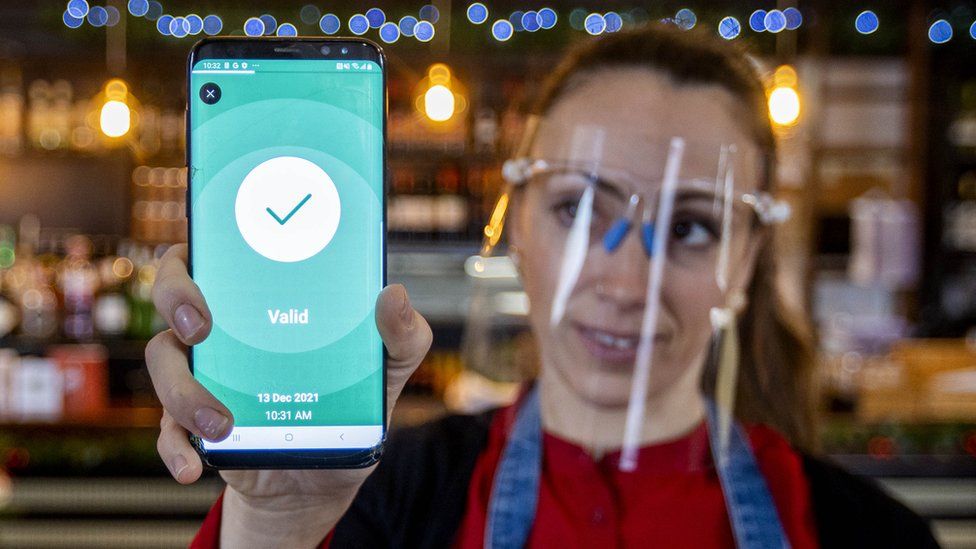 Stormont ministers have agreed to drop the use of vaccine passports in pubs, restaurants and cinemas in Northern Ireland from midday on Wednesday.
The move is part of several relaxations to Northern Ireland's Covid rules.
It means proof of Covid status will no longer be legally required in hospitality premises from 26 January.
The system will remain in place for nightclubs and indoor unseated and partially-seated events with 500 or more people in attendance.
Ministers have also agreed to remove rules on table service in hospitality businesses and the so-called "rule of six" per table from midday on Friday.
It is understood that hospitality businesses will still be advised in guidance to retain use of Covid certification.
Under the latest changes, the guidance limit of three households allowed to meet indoors in a home is also to be removed from Friday.
Under the plan, nightclubs will be allowed to reopen from Wednesday with dancing and indoor standing events permitted again.
The Stormont executive was advised by the Department of Health that the minimum self-isolation period for people testing positive for Covid-19 will be reduced to five full days, subject to negative lateral flow tests on days five and six of their isolation.
Also from next Wednesday, the need for offices to "take reasonable measures for 2m (6ft) social distancing" will be removed although risk assessments should be carried out.
First Minister Paul Givan described the changes as a "step in the right direction" and said they reflected the changing circumstances in Northern Ireland.
Deputy First Minister Michelle O'Neill said it was "clear we were past the peak" in terms of coronavirus case numbers and the number of Covid-19 patients in hospital.
Existing measures 'sufficient'
Proof of Covid certification has been legally required in certain settings in Northern Ireland since 13 December, with the Democratic Unionist Party (DUP) the only party in the executive opposed to its use.
Speaking on Thursday, Ken Sharpe, owner of Salty Dog hotel and restaurant in Bangor, County Down, said his turnover in December was down by 25% compared with two years ago.
"It was the introduction of Covid certification and other restrictions that really caused us to crash," he said.
The decision by ministers to remove the requirement for Covid passports was welcomed by several trade bodies.
Angela McGowan, the Northern Ireland director of the Confederation of British Industry, said companies would be hopeful that "we are finally starting to turn the corner on Covid-19".
"Removing indoor hospitality restrictions will come as a big relief to those companies desperate to start trading their way to recovery after a difficult festive period.
"The decision to limit the vaccine passport scheme to nightclubs will also be welcomed by Northern Ireland's significant food, drink and tourism sectors as we head into spring.
"The focus must now be on how we can safely live with the virus, grow the economy and stimulate investment."
The Campaign For Real Ale's Northern Ireland chairwoman Ruth Sloan said the easing of Covid rules was "good news for our pubs, publicans and pub-goers".
"The end of table-service only requirements will be particularly welcome, helping pubs to operate at a decent capacity and be able to get enough money through the tills after months of devastating restrictions.
"However, ministers here and in Westminster will need to continue to support our local pubs, breweries and cider producers to fully recover to pre-pandemic levels of trade."
'Next meeting an important one'
At their meeting to agree the changes on Thursday, ministers were advised by health officials that there may be a "secondary peak" in cases in the next two weeks as a result of further spread in school age children.
However the advice also states that it is likely that existing measures will be "sufficient" to manage hospital admissions and deaths are not expected to rise significantly, due to Omicron being less severe than previous variants.
Mr Givan also said the next executive meeting on 10 February would be an "important one" when other measures would be discussed.
He said he wanted to see movement on the wearing of masks.
Infrastructure Minister Nichola Mallon told BBC News NI's The View that she was content to agree with the recommendations.
"This is all as a result of the mammoth effort that the people of Northern Ireland have put in and the huge sacrifices that they have made to keep themselves safe, to keep their families safe and to keep everyone else safe," she said.
But she was critical of a leak of an executive paper outlining what ministers would discuss in meeting, which she said had led to "uncertainty [and] media speculation".
"That was bad government on a good day and I think people deserve better than that," said the SDLP minister.
There's no doubt that we are closer to the end of this pandemic than the beginning.
While it was science, and chiefly the vaccination programme, that got us to this point, so did a huge amount of sacrifice and effort.
That's why some experts are urging caution and stressing that it's not over yet.
While easing of restrictions is welcomed, infection levels are still causing much concern.
Infections have fallen but are still well above what they were at the height of the peak last winter - the big difference is that Omicron is affecting people much less severely.
The executive has been warned that in the next fortnight, there could be a secondary peak in cases as a result of further spread among children.
While not severely affected, children who test positive are off school, requiring parents to stay off work to be with them - an indirect impact causing huge staff absences across the public sector.
As in other jurisdictions, politics is influencing what decisions are being taken - a delicate and difficult balance.
Spring, however, is looking brighter.
Scotland, England and Wales have already announced some easing of restrictions.