Bloody Sunday: Parachute Regiment flags near Derry 'unacceptable'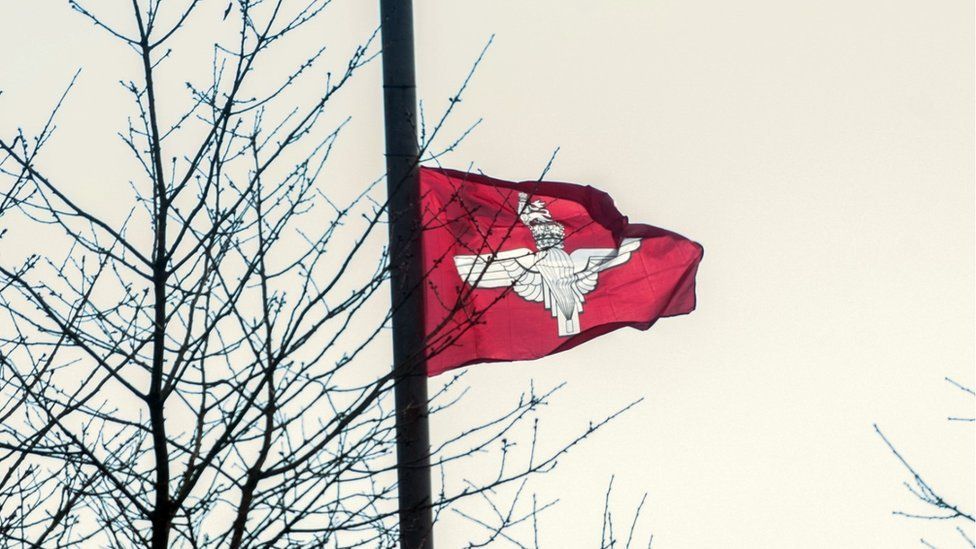 Unionist politicians have condemned the flying of Parachute Regiment flags near Londonderry ahead of the 50th anniversary of Bloody Sunday.
Foyle DUP assembly member Gary Middleton described the flags as "unacceptable and disrespectful".
Ulster Unionist leader Doug Beattie said they show a "lack of respect and compassion".
Thirteen people were killed on 30 January 1972 when paratroopers opened fire on a civil rights march.
Flags have been put up in Drumahoe and Newbuildings, on the outskirts of the city.
Writing on Twitter, Mr Middleton, a junior minister in the Stormont executive, said he was "proud of our Armed Forces".
"However the erection of these flags are not designed to mark any of those things," he said, adding they were "unnecessary and designed to be offensive".
Mr Beattie said the flags do "nothing but hurt the victims who still grieve to this day".
"Please take them down," he added.
Replying to Mr Beattie on Twitter, the Parachute Regiment described the erection of the flags as "totally unacceptable and disrespectful behaviour".
100% agreed. Totally unacceptable and disrespectful behaviour.

— TheParachuteRegiment (@TheParachuteReg) January 24, 2022
The Police Service of Northern Ireland (PSNI) said it understood the difficulties the flying of these flags can cause.
Area Commander Ch Supt Ryan Henderson said efforts must be made to focus on "inclusivity and respect".
"The flying of any flag or banner should be carried out with the consent of the person or organisation who owns the street furniture or property on which the item is flown or displayed," he said.
"We will act to support the removal of flags or banners by those who have responsibility for a structure on which the item is displayed."
A Ministry of Defence spokesperson said: "Flags, emblems and associated regalia are an integral part of the unique identity and heritage of the many regiments and units that make up the British Armed Forces.
"The MoD does not condone in any way their misuse. They should be used only in an official capacity."
He described the killings as "unjustified and unjustifiable".
Speaking to BBC Radio Foyle, John Kelly, whose brother Michael was killed on Bloody Sunday, said the flying of the flags was "really offensive to the families" of the victims.
"These people are trying to create pain, adding to the pain the families have been carrying for all these years," he said.
"Some people will always try and upset the families and the people of Derry, even though it has been proven through Saville that our people were totally innocent."
SDLP leader and Foyle MP Colum Eastwood said the flags were "a blatant attempt to upset people in the city".
"These flags must be removed at once, they are an insult to the survivors of Bloody Sunday and the victims' families," Mr Eastwood said.
"I would urge unionist politicians and community leaders in the areas where these flags have been erected to intervene and facilitate their removal."
Mr Eastwood said this is a time to be "reflecting on the terrible events of 50 years ago, not being distracted by the actions of a tiny minority".
Sinn Féin's Ciara Ferguson said putting up the flags was "a deliberate attempt to stir up tensions and hurt families ahead of the 50th anniversary of Bloody Sunday".
"They can only have been erected to cause hurt to the victims and survivors of Bloody Sunday and their families and I would ask those who put them up to show some decency and remove them immediately," she said.
Ms Ferguson said they had caused "huge upset".
Alliance councillor Rachael Ferguson said the act was "purely designed to intimidate and create a chill factor for those who live, work or visit here".
"I don't doubt for one second the vast majority of people who live in these areas didn't back the erection of these flags and political representatives from all quarters should condemn this," she said.