Some steel exports from Great Britain to Northern Ireland face 25% tariff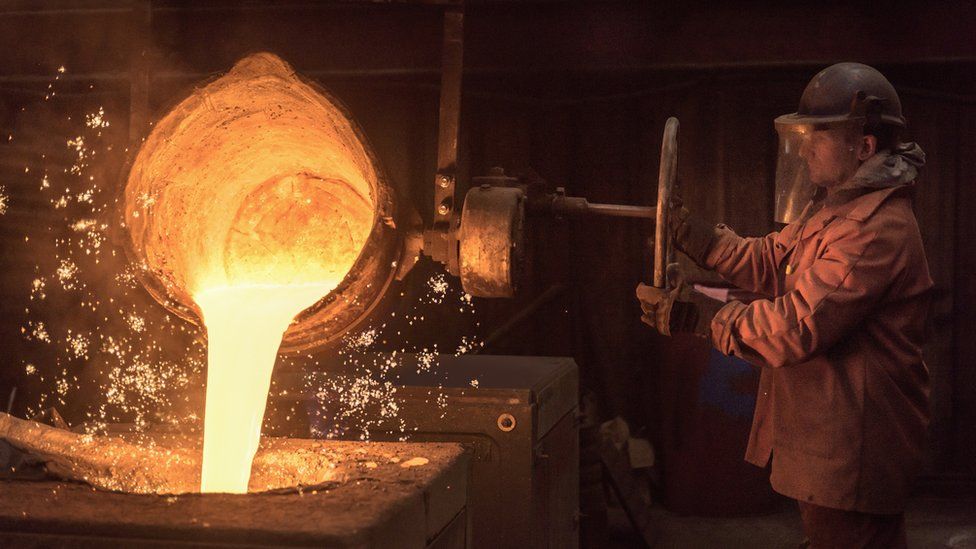 Some steel exports from Great Britain to Northern Ireland are facing a 25% tariff because of changes to EU rules.
HM Revenue and Customs told steel producers of the tariff on Wednesday.
The tariff is related to the Northern Ireland Protocol, the post-Brexit deal which means Northern Ireland is continuing to follow EU customs rules.
The EU has changed some of its rules in regard to steel imports for reasons related to Russia's invasion of Ukraine.
That has had a knock-on effect on steel sales from Great Britain to Northern Ireland.
Essentially, steel from Great Britain had been able to enter Northern Ireland without a tariff because it was covered by a tariff rate quota (TRQ) for UK exports to the EU.
A TRQ allows a certain amount of a product to enter a customs territory without a tariff being paid, but once a set limit is reached tariffs apply.
Until June there was a specific TRQ for UK steel exports to the EU.
However, when sanctions were applied to Russia EU businesses could no longer buy steel from there.
So at that time the EU scrapped country-specific TRQs for the UK and others in favour of one TRQ for Ukraine and another TRQ covering all "other countries".
Mr Lowe said this was intended to give EU steel importers more flexibility in the absence of Russian supplies.
However it also means that the tariff free limit for Great Britain supplies to Northern Ireland has been quickly reached, as Mr Lowe explained.
"Whereas before the UK had access to its own country-specific quota, which it could rely on to accommodate steel moving from Great Britain to Northern Ireland, now these movements would be covered by the 'other countries' quota which could fill up much more quickly, given the entire world has access to it," he said.
"Once it is full: 25% tariff on steel moving from Great Britain to Northern Ireland."
The director of UK Steel, Gareth Stace, said: "It is beyond farcical that UK producers are now prevented by these tariffs from selling goods to customers in their own country.
"To add insult to injury EU steel producers can continue to export these goods tariff free throughout the UK, but we can no longer do so in the opposite direction.
"Consequently, much steel that would have been supplied from UK steel producers will now have to come from the EU.
"At a time of looming recession, this is surely madness."
He said it was essential that the government acted immediately to suspend the tariffs agreed a plan with the EU for lasting solution.
A UK government spokesperson said the tariff was another example of how the Northern Ireland Protocol was "needlessly damaging trade within the UK".
"We are in constant contact with industry representatives on practical solutions to this issue but a long-term solution requires changes to the protocol," the spokesperson added.
Democratic Unionist Party (DUP) MP Carla Lockhart said she had written to Chancellor Nadhim Zahawi to request that he suspend the tariff, the impact of which she said would be felt across the construction sector.
"The full implantation of the protocol is yet to come. Should that ever be realised it will spell further economic damage to Northern Ireland," she said.
"It is time for a new way forward that supports our economy."