Covid-19: End of pandemic not yet in sight, says Ian Young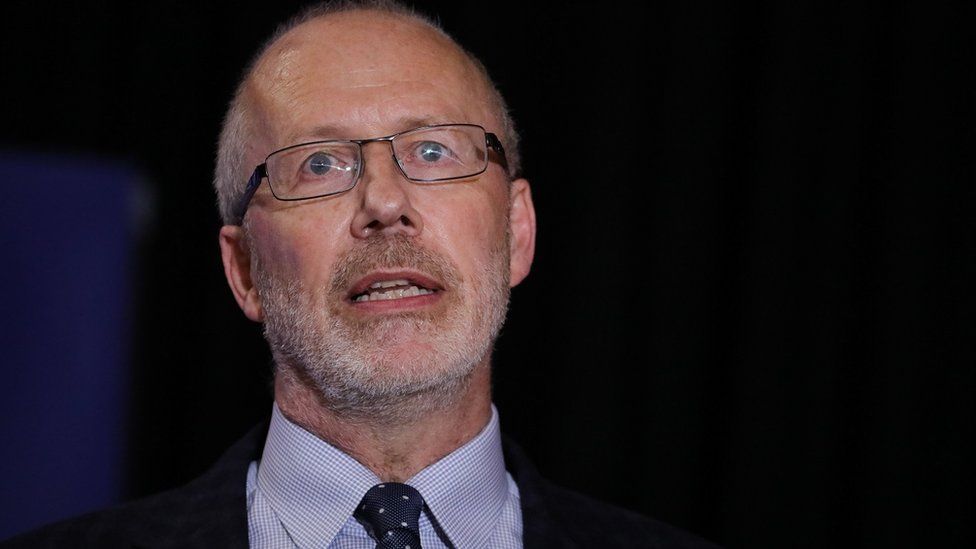 Northern Ireland has some way to go before it can say an end to the pandemic is in sight, the chief scientific adviser has said.
Prof Ian Young was responding to the World Health Organisation, which said the end of the pandemic was in sight.
The public are being urged to get their autumn Covid booster jab in order to keep the virus contained.
Prof Young said while fewer people were testing positive, there were about 200 people in hospital with the virus.
He said that between one in 50 and one in 70 people were testing positive each week.
That meant some people remained very ill from the virus, which continued to place additional pressure on the hospital system, he added.
The chief scientific adviser warned that with the risk of other variants, respiratory illnesses, flu and amid the pressures of the cost-of-living crisis, people would continue to die this winter.
"This winter is likely to be a difficult one," Prof Young told BBC News NI.
"We see lots of negative headlines; people are very worried about how they will heat their homes, how they will get healthy food to support themselves and their families.
"In the background we will continue to have risks of Covid, risks of influenza and other winter illnesses.
"We have got to do everything positive we can to protect ourselves and others."
The comments from the World Health Organisation were its most upbeat Covid assessment since it declared a global pandemic in 2020.
World Health Organisation (WHO) director general Dr Tedros Adhanom Ghebreyesus said: "We are not there yet. But the end is in sight."
Prof Young welcomed the assessment but cautioned the WHO's statement must be read in full.
"They are saying they can see a potential end in sight, but that there is still some way to go," he said.
"Older people and those in vulnerable health groups are still at risk and people will continue to die from Covid."
The WHO continues to urge countries to maintain vigilance and likened the pandemic to a marathon race.
Prof Young said one way to help get everyone across the finishing line was for the public to get their autumn booster.
"We know that after you have had Covid or after you've been vaccinated immunity is strong, but it does start to weaken after six months.
"So as we enter the autumn and winter - when there will be some upturn in the virus - then getting a booster is vital in terms of protecting yourself and others."
He added that this would help prevent people contracting long Covid.
According to the British Medical Association, there are about 1,600 people in Northern Ireland with long Covid, of whom 600 have had a first appointment with a consultant.
Prof Young said the health and social care system had not forgotten about people with the condition and that Northern Ireland's health trusts were trying to offer as much support as possible.
"Unfortunately, there is no easy cure for long Covid," he said.
"There is a lot of research going on into what is the most effective support and whether there are any effective treatments available, but all of us can best protect ourselves by getting vaccinated.
"We know that does reduce your risk of long-term Covid."