Covid-19 powers to be extended by Department of Health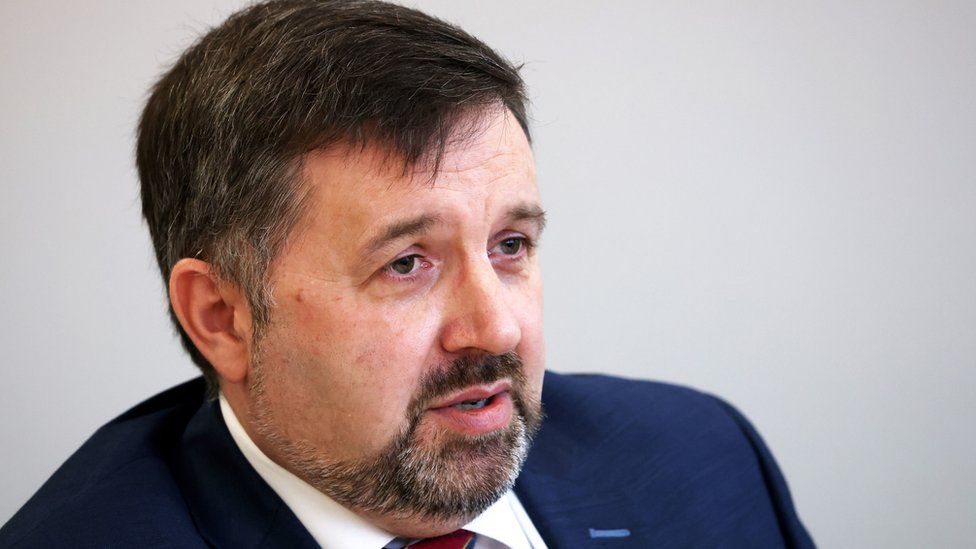 Northern Ireland's health minister has opted to extend his department's powers under the Coronavirus Act for six months.
The powers were extended for the first time in March until 24 September.
In a statement to the Northern Ireland Assembly, Robin Swann said he had been advised the move was not "considered significant or controversial".
However DUP minister Edwin Poots said the move was "a controversial issue".
Mr Swann said without the powers, Northern Ireland would be out of alignment with the rest of the UK in the event that health protection measures were needed in response to a new Covid-19 variant of concern.
He said the chief medical officer and chief scientific adviser had advised that the risk of a new variant could not be excluded.
"I have no plans and certainly no desire to introduce any further restrictions," he said.
"I am extremely hopeful that the question will not arise, given the trajectory of the pandemic, the success of our vaccination campaign and the effective Covid-19 treatments now available through the health service."
Mr Swann said the decision had fallen to him in the "continuing absence of a functioning NI Executive".
Mr Poots said his party's three ministers would write to Mr Swann to oppose the extension.
"Most of us, certainly in our party, don't believe that this extension is necessary and therefore the regulations are necessary and that Robin Swann would be better concentrating on other things," Mr Poots told BBC Radio Ulster's Nolan Show,
"The problem is some of the powers that were used in the past, we believe, were excessive and it gives somebody the ability to use excessive powers."
He said he did not believe emergency powers were needed as Covid as a condition had been considerably "watered down" since the pandemic began.
In his written statement to the Northern Ireland Assembly, Mr Swann said he had asked his officials to draft the necessary order to ensure the legislation can take legal effect upon the assembly's approval.