Covid-19: How to prepare for a possible winter wave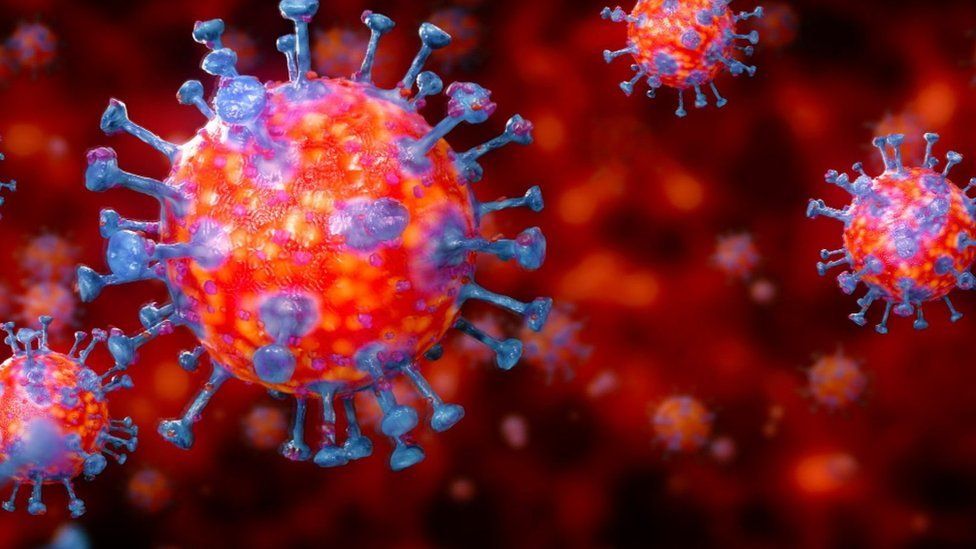 Covid infection rates have fallen considerably since the summer but experts are warning of a potential wave as winter approaches.
A vaccination booster campaign is under way for vulnerable groups.
The latest Department of Health statistics for Northern Ireland show one person in 80 is infected.
During the most recent week for which figures are available, 14-20 September, it is estimated that 23,100 people had Covid-19.
This equates to 1.26% of the population.
Positive tests have decreased
Modelling suggests the percentage of people testing positive in Northern Ireland decreased in the two weeks up to 20 September 2002
As the chart below shows, there has been a marked decline in the number of people in NI hospitals with Covid.
Despite the current low figures, Dr Joanne McClean from the Public Health Agency told the BBC's Good Morning Ulster: "We expect to have a further wave of Covid this winter."
NHS director for vaccinations and screening Steve Russell said: "This winter could be the first time we see the effects of the so-called twin-demic with both Covid and flu in full circulation.
"It is vital that those most susceptible to serious illness from these viruses come forward for vaccines in order to protect themselves and those around them."
A Covid vaccination booster campaign is in place to protect vulnerable groups as winter approaches.
Most vaccines will be provided by GPs and community pharmacies but health trusts and schools will also be offering vaccinations.
Each group has their own arrangement for inviting eligible groups and booking vaccine appointments.
Jabs are being offered to the following groups:
People aged 50 years and older
Residents in care homes for older people
Those aged five years and over in a clinical risk group
Front line health and social care staff
Vaccination will be available between September and December, and those at highest risk will be vaccinated first.
Those eligible will be given a booster dose of a vaccine made by Pfizer or Moderna.
The Covid-19 booster will reduce the chance of becoming severely unwell from Covid-19 this winter, although It may take a few days for the body to build up some extra protection from the booster.
You can get further information on the Covid vaccination booster campaign on the PHA website.
People receiving the Covid booster will also receive a flu vaccination.
Flu activity levels have been extremely low globally the last two winters, mainly due to Covid-19 prevention measures.
As a result, a lower level of population immunity against flu is expected this year. This coupled with Covid-19 could potentially result in a real health threat, particularly to vulnerable people.
The UK Health Security Agency (UKHSA) says this year's flu jab is a good match for the type of seasonal influenza that is circulating - a strain called H3N2.
In Australia, which had a reasonably severe flu season during its winter, the jab was well matched to that strain.
It is the same one that caused a bad flu season for the UK in 2017-18.
What to do if you think you have Covid symptoms
Covid testing is no longer recommended or available for most people, and Covid testing for healthcare staff and those visiting healthcare buildings in Northern Ireland without symptoms is to stop from Monday.
The NI Direct website has the following advice for people who have such symptoms:
If you have a high temperature or do not feel well enough to go to work or carry out normal activities, you should stay at home and avoid contact with other people.
Do this until you no longer have a high temperature (if you had one) or until you feel better.
Work from home if you can. If you can't work from home, talk to your employer about your options.
Avoid close contact with anyone you know to be at higher risk, especially individuals with a weakened immune system.
If you've been invited to a medical or dental appointment in person, tell them about your symptoms before you go.
Do not visit others in a health or social care setting if you have symptoms.
If you are concerned about your symptoms, they are worsening, or you can no longer manage at home, seek medical advice by contacting your GP. In an emergency dial 999.
On Friday, the Department of Health said its advice remained in place that visitors who display symptoms of a respiratory illness, including coronavirus, should not attend healthcare buildings.
The advice to continue testing after Monday applies to staff, care home residents and patients who develop Covid symptoms.
The department said lateral flow tests remained available free of charge for those who were still advised to take them.
Children and young people under 18
Respiratory infections are common in children, particularly during the winter months.
The NI Direct website has the following advice:
Children and young people who are unwell and have a high temperature should stay at home and avoid contact with other people, where they can.
They can go back to school, college or childcare, and resume normal activities when they no longer have a high temperature and they're well enough.
Children and young people who usually go to school, college or childcare and who live with someone who has a positive coronavirus test result should continue to go as normal.
It can be difficult to know when to seek help if your child is unwell. If you are worried about your child, especially if they are under two years old, then you should seek medical help.
The PHA advises that working from home is a very effective way of reducing social contacts and breaking chains of transmission and that employers may still wish to consider how remote or flexible working could be used effectively.
Where staff are going to or returning to workplaces, employers are encouraged to consider what practical mitigations might be put in place, such as:
Hygiene and sanitary measures, such as regular handwashing
Some form of social distancing, ideally of no less than one metre where practicable
Mechanical or natural ventilation
The use of physical barriers
Wearing face coverings in communal areas