Planning applications: Stormont accused of 'undermining' council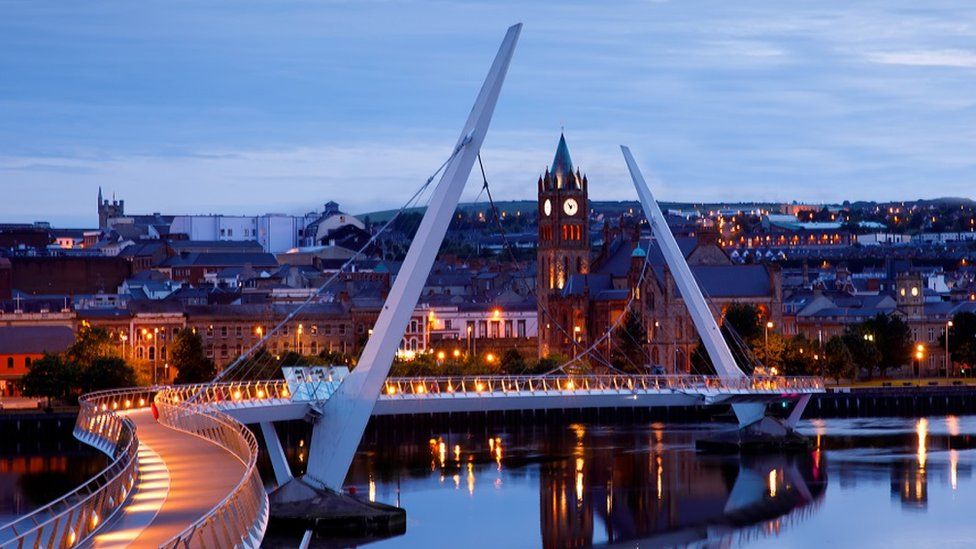 A Derry and Strabane councillor has accused the Department for Infrastructure (DfI) of "undermining" the planning function of the council.
Sinn Féin's Christopher Jackson has questioned how long the DfI was deliberating on planning applications.
The frozen food retailer had hoped to open a new store at Crescent Link in the city.
A proposal for a delegation to meet the DfI over planning delays was approved by the council on Thursday.
Iceland has two shops in Derry - one at Foyleside Shopping Centre and another at Buncrana Road.
There is also another shop located a short distance from Derry in Strabane, County Tyrone.
The Crescent Link site is one of the biggest retail developments in the north-west and includes retail giants like Tesco, Marks and Spencer and Homebase.
Last week Iceland managing director Richard Walker said his company was "walking away" from the proposed store "because after two years of trying to apply for planning we're still waiting for a decision".
He said "less bureaucracy and getting government out of the way" in planning would allow the private sector to create more jobs.
He said that was the case "for many stores" they wished to open across the United Kingdom.
'Sitting on planning applications'
At a meeting of the council on Thursday, Mr Jackson, who sits on council's planning committee, raised the issue of planning delays.
He said that the department was "sitting on" several planning applications and accused it of "undermining the planning function of this council".
Mr Jackson's motion for a delegation of council officials to meet the DfI's director of regional planning was approved by Mayor Sandra Duffy.
Speaking to BBC Radio Foyle on Friday, Mr Jackson said the DfI had called in five planning applications that Derry and Strabane councillors had previously made decisions on.
That included a retail application, plans for social housing and a council-backed greenway scheme.
"We want to know is there any timeframe as to when decision will be made," said Mr Jackson.
"The way we look at it is there is a real undermining of the local planning function.
"I can accept the fact the department have the right to call an application in but to sit on it for two years is disgraceful."
BBC News NI has asked the department for a comment.