Climate change: Most NI homes 'need upgrade' to meet net zero goal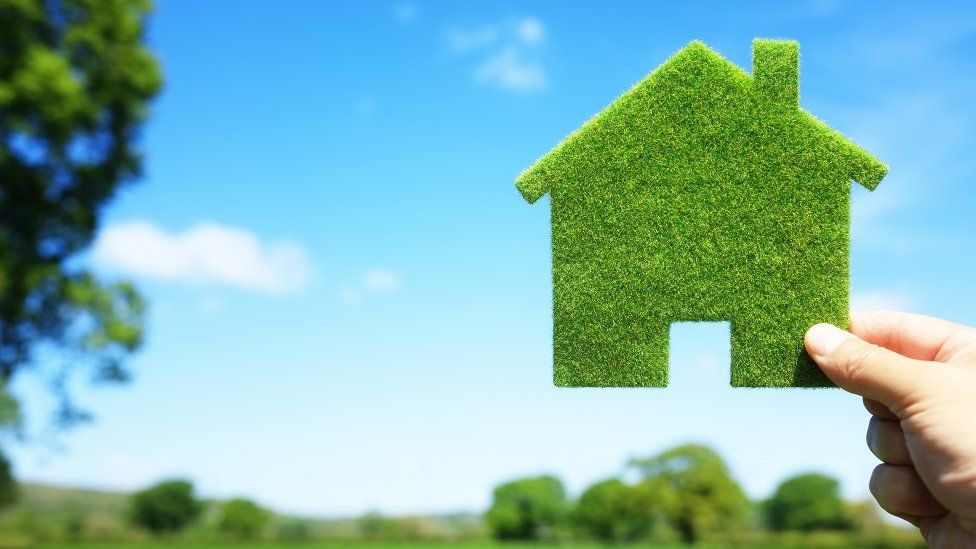 Most homes in Northern Ireland need to be upgraded to be more energy efficient if 2030 net zero targets are to be met, a report has found.
It found, on average, the properties do not retain heat as well as those in the rest of the UK and Ireland.
The Ulster University study is part of a report by the Forum for Better Housing Market NI, a group which looks at issues in the local housing market.
The forum said "we need to act now" to cut emissions from the housing sector.
In total, the report found that about 60% of homes need to improve their energy efficiency to help Northern Ireland towards reaching its net zero goal.
The report also indicated that about 50,000 buildings a year must be improved in order to hit the target of a 56% reduction in energy-related carbon emissions from the housing sector in Northern Ireland.
With the help of research from Ulster University, the forum's report, called New Foundations: The route to low carbon homes, sets out recommendations to support the process of decarbonisation across the housing sector, which currently contributes to 14% of the country's total greenhouse gas emissions.
Among the recommendations is that there should be a single policy to cut emissions in the housing sector, which focuses on trying to incentivise developers, construction firms and homeowners to create more energy efficient homes.
Other suggestions include retrofitting existing homes with low carbon heating systems, such as heat pumps, better insulation and a range of "green" mortgage products.
According to David Little, chair of the Forum for a Better Housing Market NI, Northern Ireland is lagging behind the rest of the UK and Ireland.
"Homes here record the lowest energy performance scores compared to our neighbours and we are not on track to meet UK net-zero targets," he said.
The research carried out at Ulster University was led by Prof Martin Haran, who highlighted "a series of failed initiatives allied with a non-sitting Stormont Executive has ensured that Northern Ireland lags behind other UK regions and the Republic of Ireland".
The report also points to how other UK nations are tackling the issue, such as in England and Wales, with "the Heat and Buildings Strategy in 2023, pledging £3.9bn in new funding to decarbonize heat and buildings".
According to the report, Northern Ireland's Climate Change Bill in 2022 represented a significant milestone "in terms of tackling climate change and decarbonisation", as it puts Northern Ireland on a par with other UK regions by mandating 2030, 2040 and 2050 net zero targets.
The UK has some of the least energy-efficient housing in Europe - largely because much of the housing stock is so old.
Northern Ireland homes are among the least efficient in the UK, making them among the least efficient in Europe.
Properties are rated on energy efficiency via an energy performance certificate (EPC), which rates the property from grade A - most efficient - to grade G.
The government previously set a target to upgrade as many homes to grade C by 2035 "where practical, cost-effective and affordable".
However, some campaigners have criticised the progress towards this goal.
Many newer homes continue to be built without basic insulation.
In 2022, the UK climate advisory group, UKCCC, warned the government that: "We are still building new homes that do not meet minimum standards of efficiency."