'Good response' to ombudsman Creggan bomb investigation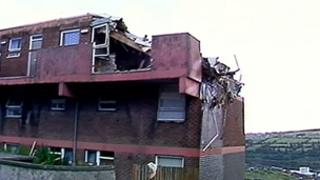 The Police Ombudsman's Office has said it has received a positive response to an investigation into how the RUC dealt with an IRA bomb attack in 1988.
Three people were killed when a booby-trap device left for the security forces exploded at Kildrum Gardens in Creggan in August 1988.
On Thursday, representatives from the ombudsman's office were in Creggan to appeal for information.
Louise McKenna from the office said it was a worthwhile exercise.
"We didn't really know what to expect but we were happy with what we got," she said.
"So we thank everyone who did turn out today and also say if anyone was unable to make it they can contact the ombudsman's office and we will be more than willing to speak to them
"It's early days yet and we really need to go away from here and see what information we have received and see where it takes us."
The ombudsman received a public complaint about how police dealt with the booby-trap bomb.
Sean Dalton, 55 and Sheila Lewis, 60, were murdered by the bomb. Another man Gerard Curran died the following year from his injuries.
Negligence
Lost Lives, the book which chronicles every death in Northern Ireland's Troubles, said the incident was described as the "good neighbours bomb".
The IRA had kidnapped a man and booby-trapped his flat in the expectation it would be searched by the security forces.
Instead the three victims, who had noticed their neighbour's absence, went to the man's flat. Mr Dalton managed to get inside which detonated the bomb and demolished the flat.
According to Lost Lives Mr Dalton's family later claimed the police had been negligent in allowing civilians to approach the flat.
They allege the police were aware it had been booby-trapped but the bomb had been left in place to protect an informant.
The family stressed that the IRA was ultimately responsible for what happened but said the RUC should have also accepted its responsibility.