Mayor says Derry can host major events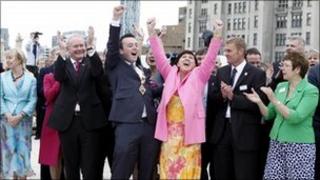 The Mayor of Londonderry has said the city will be in a position to host UK City of Culture events, such as the Brit Awards.
There are fears they could go elsewhere because a suitable venue in Derry is not available.
Derry was chosen as the UK's inaugural City of Culture last week.
Mayor Colum Eastwood said there are several sites across the city that could host major events.
"There have been some rumours about that some of these events are going to Belfast - that's a non-starter, they have to come to Derry," he said.
"We actually need 10,000 (seats) to host the Brits I'm told and there are a number of sites and a number of disused buildings.
"I don't think it's an issue. There's a lot of work's been done and a lot of work to be done, but I think we can host these events."