Gallagher criticises Fermanagh flood taskforce funding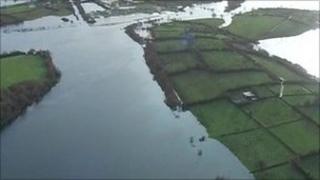 A Fermanagh MLA has said money earmarked for a flooding taskforce in the county is a "half-hearted gesture".
Downpours caused Lough Erne to rise to record levels last autumn, leading to flooding widely considered the worst in living memory.
Tommy Gallagher said that between £1m and £2m has been dedicated to the taskforce by the Executive but was not enough to improve infrastructure.
He stressed that a "long-term plan" was needed to prevent a recurrence.
"The floods in Fermanagh occurred eight months ago," Mr Gallagher said.
"The Executive responded by establishing the taskforce in December last year but what has it done?"
"It is hard not to conclude that this is a nothing more than a half hearted gesture by this Executive which has a track record of failure and disappointment on big issues."
The task force was set up last December and is represented by a number of government departments reporting to the Office of the First Minister and Deputy First Minister.
It has held meetings to hear evidence directly from those affected by the floods.