DUP delegation meets Foyle chief superintendent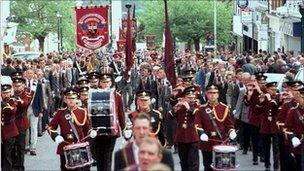 A DUP delegation met police in Londonderry on Friday ahead of the Apprentice Boys' parade in the city later this month.
They were concerned that dissident republicans could disrupt the parade.
Willie Hay and Gregory Campbell met with Chief Superintendent Stephen Martin to address fears that the PSNI has insufficient resources to deal with any potential trouble.
Foyle MLA and Apprentice Boy Willie Hay said it was a very positive meeting.
"We were there to get reassurance that the resources are there to deal with whatever incidents take place now or in the future and certainly as far as we were concerned those assurances were given," he said.
The delegation also raised concerns about reported plans by dissident republican groups to stage a white-line protest close to the parade route.
Mr Hay said that senior police officers went into detail about how they would police the situation on the day and that he was confident the police could cope with whatever incidents may occur.
He appealed to those attending the Apprentice Boys' parade to act with restraint.
"If there is a white-line picket on behalf of prisoners I think it's important that people coming to the parade behave with dignity and don't react to any provocation whatever direction it's coming from," he said.
Mr Hay said it was important that politicians and community leaders do whatever they can, publicly and privately, to lower tensions in the run up to the 14 August parade.
Related Internet Links
The BBC is not responsible for the content of external sites.