Londonderry drinks promotion aimed at 'school-children'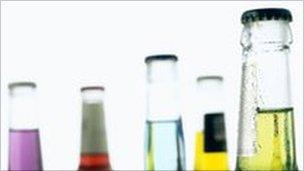 A nightclub in Londonderry has been criticised for a drinks promotion aimed at students receiving their A-level results.
The Carraig bar on the Strand Road marketed the £1 drinks deal in a half-page newspaper advertisement.
Thousands of young people across Northern Ireland will receive their grades on 19 August.
The club's owner said it had not broken any rules, but the SDLP's Helen Quigley described it as worrying.
Describing the advertisement for the A-Level results party councillor Quigley said: "It offers various vodka and other alcoholic shots beside a pound symbol which I take to mean they will cost a pound each.
"This ad is targeting school-children, many of whom will still be under-age. Low-cost or below-cost promotion of alcohol is a very serious problem particularly when it is aimed at the young," she said.
While acknowledging that the Carraig had not done anything illegal cllr Quigley said that it was "irresponsible to target 17 and 18 year olds and offer drinks at a pound a head".
"Most of the pubs and clubs in the city do take their social responsibilities seriously and hence we do not have many advertisements like this. I would appeal to the Carraig bar not to advertise in this manner in the future."
Councillor Quigley said she had contacted the city solicitor's office and confirmed the situation at the bar would be monitored on Thursday night.
A spokesperson for the Carraig bar said the advertisement was in line with the council's code of conduct and was not breaking any rules.
They said it was their understanding that the protocol allows bars and clubs to advertise three discounted products, two nights a week.
The advertisement in question promoted three products for just one night.