Londonderry artist sees 'better than ever' with new eyes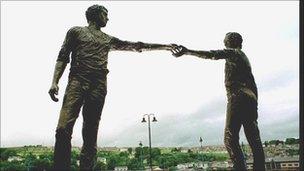 Losing your eyesight would be a traumatic and frightening experience for anyone. For an artist who makes a living in the visual arts the experience must be significantly more disturbing.
That was the future facing Maurice Harron, one of Northern Ireland's best known artists.
The 63-year-old sculptor is known around the world for his public artworks.
Probably his most recognisable work is the 'Hands Across the Divide' piece, sited at the city end of the Craigavon Bridge in his home town of Londonderry.
However, the creation of new works, as well as the completion of a project in Colorado, in the United States, was threatened by the discovery that his sight was deterioriating.
Maurice, said: "I knew I was losing my eyesight and it was a huge shock for me; it wasn't just about losing my sight, it was also about losing my work, my way of life."
When he sought advice about his vision problems, he was told that he was suffering from presbyopia, a common age-related condition in which the lens of the eye becomes harder and loses its ability to focus properly. In Maurice's case, his work as an artist exacerbated the condition.
Maurice was initially told that there was no possibility of treatment as his age meant he was considered too old for laser surgery.
He suffered a further blow when he was also diagnosed with glaucoma, a disease in which changes in eye pressure can damage the optic nerve resulting in progressive loss of vision.
Under the impression that there was little hope of treatment, the sculptor followed the advice of a friend who recommended he contact one of Northern Ireland's leading eye specialists, Professor Jonathon Moore.
Based at the Cathedral Eye Clinic, in York Street, Belfast, Professor Moore specialises in a range of ground-breaking procedures.
Unfortunately, when he went in for an assesment, Maurice was informed that in addition to the glaucoma and presbyopia, he was also suffering from cataracts.
However, the bad news was quickly followed by some good.
"Professor Moore said he could not only remove the cataracts, but also replace the lens in each eye with new, permanent, artificial lenses," said the artist.
In May, Professor Moore replaced the lens in one of Maurice's eyes with a synthetic multi-focal lens.
Last week the same procedure was carried out on his other eye.
To say the 63-year-old was happy with the results would seem to be an understatement.
Speaking at his studio in Burt, County Donegal, Maurice saidhe was absolutely stunned at the results.
"I can see clearly, as if I was 15 years old again. It's like being given new bionic eyes," he said.
"There is no blurring, no straining of the eyes. I can see in perfect 20:20 vision and the colours are just amazing."
The sculptor said he hopes his experience will give hope to people who, like him, have been told there was nothing that could be done to save their vision.
For Maurice, the future has, quite literally, never seemed brighter.
"The sharpness and the clarity has given me a new lease of life. I can see things that I could never see before," he said.
"I've gone from someone who thought I'd never be able to continue my work to someone who has a clear vision of the future, in more ways than one."
Related Internet Links
The BBC is not responsible for the content of external sites.