WW2 mortar bomb found in attic of house in east Belfast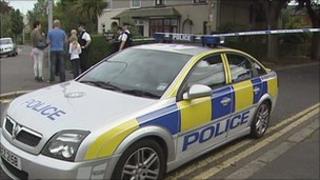 A deactivated World War Two mortar bomb has been found in the attic of a house in east Belfast.
About a dozen families in Belmont Park were evacuated while army technical officers dealt with the device. They have now returned to their homes.
Police said the three-inch long device was found by an exterminator dealing with a wasps' nest.
A PSNI spokesperson said that the item did not present any danger at any stage.
The woman who lives at the property, Stephanie McCluskey, said that the exterminator told her he had "good news and bad news".
"He said the good news is the wasps' nest is gone but the bad news was that he found a bomb in my roof space with the propellers still on it," she added.