Approval for 'most significant' Strabane investment plan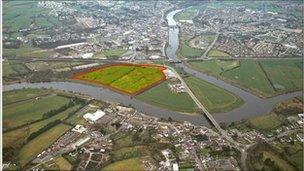 Planning approval has been granted for a major development project for Strabane.
The 23.5 acre mixed-use development project in an area between Strabane and Lifford known as "the camel's hump" has been given the go-ahead by environment minister Edwin Poots.
The multi-million pound development is set to transform the site of a former British army base.
The original application for planning permission was submitted in June 2006.
Niall McAteer, spokesperson for Riverside Building and Development Ltd which worked on the plans, said the site had the potential to define the future economic development of Strabane.
"The reality is that Strabane is regarded as an area where investors do want to come," he said.
"I would always be cautious about promising jobs, but the projections are for somewhere between 600 and 900 permanent post-construction jobs."
He said he was confident that now planning permission had been acquired, the project would proceed as expected.
"There is a contracted development group who have taken an option on this site.
"Our job was to deliver the initial planning permission and we've done that successfully and it's over to them now to come forward with their plans, and we're certainly confident in looking forward to a very positive response from the people of Strabane."
Sinn Fein West Tyrone MP MLA Pat Doherty said that the planning approval has now "unlocked the potential for biggest economic investment in the area for generations".
The proposal includes a 167,000 sq ft employment park, a 100 bedroom hotel and a leisure centre, measuring 50,000 sq ft.
The camel's hump development site is located beside the proposed route for the new A5 dual carriageway.