Bob Geldof announces multmedia news service for Northern Ireland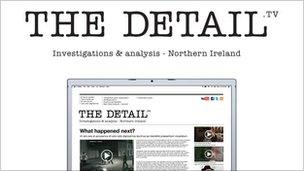 Musician, philanthropist and media mogul Bob Geldof announced an new online news project for Northern Ireland on Friday.
He said The Detail would be a multimedia website dedicated to original investigative journalism scrutinising Northern Irish issues.
Belfast current affairs documentary producer Below the Radar, part of Mr Geldof's Ten Alps media company, is to set up and manage the project.
The US-based Atlantic Philanthropies foundation has provided £600,000 towards the £750,000 budget and NI Screen contributed £150,000.
Due to launch in January, the firm said the site would create four journalist positions as well as additional freelance work.
In the long term, Ten Alps hopes to sell its news content to other outlets through syndication.
The company has already piloted this approach with Fermanagh TV, an online television channel it runs in conjunction with the Impartial Reporter newspaper.
Ten Alps said that, if The Detail proves successful, it intends to set up similar ventures in other regions throughout the UK.
Related Internet Links
The BBC is not responsible for the content of external sites.